Costco's profit up 32 percent, beating estimates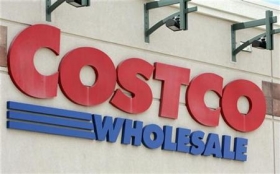 By Nicole Maestri
NEW YORK (Reuters) - Costco Wholesale Corp <COST.O>, the biggest U.S. warehouse club operator, on Thursday reported a 32 percent jump in quarterly profit, beating expectations, as shoppers flocked to its stores for discounts on food and gasoline.
The results came the same that day that Sears Holding Corp <SHLD.O>, which is controlled by hedge fund manager Edward Lampert, reported an unexpected first-quarter loss, as sales fell at its Kmart and Sears stores and markdowns hurt margins.
"Sears' management is using the challenging economy as an excuse for their poor performance, and Costco on the other hand is capitalizing on the economy to push their core value proposition with American consumers," said Craig Johnson, president of retail consulting firm Customer Growth Partners.
"(Costco) is building market share by taking share from folks like Sears and Kmart."
Costco and its rivals like Wal-Mart Stores Inc's <WMT.N> Sam's Club and BJ's Wholesale Club Inc <BJ.N> have emerged as bright spots in the struggling U.S. retail sector, as cash-strapped shoppers, worried about the weakening U.S. economy, increasingly seek out deals in the clubs.
Meanwhile, Sears is trying to overhaul its business as its shoppers pass over clothes and home decor purchases in favor of basics like food, and competitors have chipped away at Sears' dominant market share in appliances.
Costco said net income was $295.1 million, or 67 cents per share, for the fiscal third quarter ended May 11, compared with $224.0 million, or 49 cents per share, a year earlier, when Costco took a charge related to increased reserves for customer returns.
Analysts, on average, had expected earnings of 65 cents per share, according to Reuters Estimates.
Sales in the quarter rose 13 percent to $16.26 billion, excluding membership fees, which rose to $350.9 million from $317.7 million, the Issaquah, Washington-based company said.
FLOCKING TO THE CLUBS
Customers pay an annual fee to shop in Costco's warehouse clubs, which sell everything from discounted televisions and fresh foods to bulk-sized packages of toilet paper and soda. Costco also operates gasoline stations at many of its locations, typically offering prices cheaper than those of local competitors.
Quarterly sales at locations open at least a year, or same-store sales, rose 8 percent. Same-store sales at its U.S. locations rose 6 percent, while international same-store sales advanced 16 percent.
Excluding gasoline price inflation, it said U.S. same-store sales would have risen 4 percent, while on a local currency basis, international same-store sales increased 6 percent.
On a conference call, Chief Financial Officer Richard Galanti said its same-store sales were driven by an increase the number of times shoppers came into its stores and the amount they spent during their visits.
In a research note, JPMorgan analyst Charles Grom said given that Costco's quarter ended May 11, its 8 percent same-store sales increase "implies solid top-line trends at the beginning of the month."
That means Costco could report May same-store sales growth of roughly 7.0 percent to 7.5 percent -- ahead of current Wall Street estimates for a rise of 6.3 percent, he said.
KEEPING CONSERVATIVE
Galanti said analysts' average estimate for fourth-quarter earnings of $1.01 per share is probably on the high end of likely results, "if not too high."
"We want to remain conservative," he said, adding that the retailer's margins could be pressured by persistently high gasoline prices.
Costco's profits can suffer when prices rise because the retailer replenishes its gasoline supplies on a daily basis, while traditional gas stations may turn their inventory weekly. That means that when energy prices rise quickly, Costco must pay today's higher price while competitors are still selling supplies they bought cheaper a week earlier.
But the gas stations bring in shoppers and help boost same-store sales.
Costco operates 538 warehouses worldwide, including 394 clubs in the United States and Puerto Rico, 75 in Canada and 31 in Mexico.
It plans to open an additional nine to 10 new warehouses, including the relocation of four clubs, by August 31, which marks the end of its fiscal year.
Costco shares declined 13 cents to $73.11 in afternoon Nasdaq trading, while Sears shares fell $2.12 or 2.4 percent to
$87.24.
Costco shares have risen almost 30 percent in the past year through Wednesday, while Sears shares have fallen 50 percent.
(Reporting by Nicole Maestri and Steve James; Editing by Gerald E. McCormick and Dave Zimmerman)