Carbon cuts a must to halt warming : scientists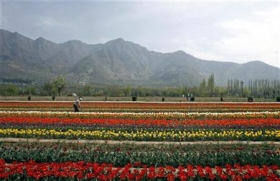 By Amanda Beck
SAN FRANCISCO (Reuters) - There already is enough carbon in Earth's atmosphere to ensure that sea levels will rise several feet (meters) in coming decades and that summertime ice will vanish from the North Pole, scientists warned on Thursday.
To mitigate global warming's worst effects, including severe drought and flooding, people must not only cut current carbon emissions but also remove some carbon that has built up in the atmosphere since the Industrial Revolution, they said.
"We're a lot closer to climate tipping points than we thought we were," said James Hansen, director of NASA's Goddard Institute for Space Studies. "If we are to have any chance in avoiding the points of no return, we're going to have to make some changes."
The small amount of warming that the Earth has experienced since the 1970s already has shrunk every glacier on the planet, scientists said this week at the 2007 meeting of the American Geophysical Union, where attention has focused on the unexpected acceleration of climate change.
"If you see that even a small amount of warming has had a notable effect on the ice, it's a good question what effect future warming will have," said Pennsylvania State University Professor Richard Alley.
Record melting occurred in the North Pole this summer, when for the first time in recorded history, ships sailed across the Arctic Ocean on water once covered by the polar ice cap.
"The only hope for a recovery is considerable and persistent atmospheric cooling, but with the warming trend so high, everything is working in concert towards a bluer or totally blue Arctic Ocean," said Josefino Comiso, a senior researcher at NASA's Goddard Space Flight Center.
STABILIZING THE CLIMATE
Scientists say global warming is caused by carbon dioxide and other gases that trap heat in the atmosphere.
The gases are produced by burning fossil fuels and are long-lasting: About 20 percent of the carbon produced by burning coal remains in the atmosphere for at least 1,000 years, Hansen said.
The concentration of carbon in the atmosphere is now about 380 parts per million and increasing by 2 parts per million each year. To stabilize Earth's climate, the concentration needs to fall to at least 350 parts per million, Hansen said.
This goal might be achieved by using alternative fuels and new technology.
Researchers are working on a project that scrubs carbon dioxide from the stacks of coal-burning power plants. The gas is then permanently stored in rock formations and oil wells thousands of feet below Earth's surface, said Julianna Fessenden of the Los Alamos National Laboratory.
But that technology is at least a decade away, and Hansen said he was discouraged recently when Britain gave its approval for the first coal power plant to be constructed in the country in more than 30 years. China, whose booming economy is powered largely by coal, also is building coal-burning plants.
"It's just been taken as a God-given fact that we're going to burn all of these fossil fuels and not capture the carbon dioxide," Hansen said. "And you just can't do that if we want to keep this planet resembling the one that we've had for the last 10,000 years."
(Editing by Xavier Briand)