Progress declared in Chesapeake Bay Restoration Efforts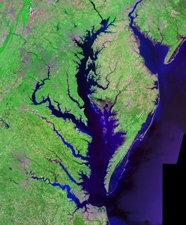 ANNAPOLIS, Md. - Pennsylvania's combination of mandatory requirements and environmental stewardship has led to sizeable reductions in nutrient and sediment pollution to the Chesapeake Bay since 2004.
The Governor Rendell also announced that Pennsylvania will use its strengths in agriculture and alternative energy development to push for important federal farm legislation and technological breakthroughs in producing biofuels.
"Just as we collectively benefit from having this natural wonder in our backyards, we also collectively share the responsibility for ensuring its long-term health," said Governor Rendell of the bay and its 64,000 square mile watershed. "We're doing our part in Pennsylvania by working to reduce run-off and pollution from wastewater facilities, urban areas and agricultural lands."
Through 2006, the state had reduced nitrogen loadings to the bay by 25.8 million pounds and phosphorus loadings by 1.72 million pounds. Additionally, sediment pollution had been cut by nearly 420,000 pounds.
The progress has been achieved through a combination of tough new measures designed to reduce point and nonpoint source pollution. Municipal wastewater treatment plants are now operating under mandatory nutrient limits in order to meet federal Clean Water Act requirements, and any new residential and commercial developments projects in Pennsylvania are required to eliminate or offset all nutrient and phosphorous discharges completely. Developers can apply wastewater effluent to crops, recycle or reuse the effluent, create on-lot systems, or purchase nutrient credits among other techniques.
The state's innovative Nutrient Trading Program allows communities and farms below baseline limits to sell pollution reduction credits to other municipal systems, providing a cost-effective approach to compliance.
In 2005, Governor Rendell's Agricultural Communities and Rural Environment initiative, or ACRE, was adopted, providing significant improvement to Pennsylvania's farm management regulations. ACRE requires all of the largest and high density farms, and all importers of manure from those farms, to have nutrient management plans and set backs or buffers along all streams on their operations. This increases the number of highly regulated farms by 600 percent, from 800 to about approximately 5,000.
The Governor also specifically pointed to efforts like the Resource Enhancement and Protection Program, or REAP, that was signed into law this year. The program allows farmers and businesses to earn tax credits in exchange for best management practices on farm operations that enhance production and protect natural resources, such as planting riparian buffers and remediating legacy sediment.
Looking forward, Governor Rendell today advocated two issues he believes are important to the future health of the Chesapeake Bay.
The Governor announced that Pennsylvania will convene a summit of environmental and technical experts to discuss how developing new cellulosic ethanol production technologies can protect the bay and its watershed. He also urged his fellow executive committee members to call on the U.S. Congress to pass the 2007 Farm Bill before year's end.
"Our farmers need help in order to continue reducing the amount of run-off going into our streams and rivers," said Governor Rendell. "The version currently being considered by Congress is better for Pennsylvania's farmers and the bay, because it provides new resources to support conservation measures and best management practices that will reduce pollution."
The Farm Bill authorizes and guides the nation's agricultural, rural development, soil and water conservation, and domestic and foreign food aid programs. The current set of bills that was passed in 2002 will expire at the end or the year.
In the Chesapeake Bay region, Farm Bill conservation programs are especially critical due to the cost-effective water quality benefits achieved by the best management practices it funds.
The biofuels summit will take place in Pennsylvania next year, and will include experts on the emerging issues and opportunities associated with cellulosic ethanol who will meet with state and federal policy makers. Together the group will focus on issues such as sustainability, forest and wildlife health, energy demands, water quality and how best to develop the technology within the bay region.
The panel will build upon the Chesapeake Bay Commission's Biofuels and the Bay report, which provides suggestions on how to proceed with the biofuel development in such a way as to not harm local waterways or the bay.
"While corn-based ethanol represents a viable and readily available alternative to foreign oil, I believe there is an even more promising approach just over the horizon in cellulosic ethanol technology - and Pennsylvania is uniquely situated to take the lead in developing it," said Governor Rendell. "Rather than depending on corn to produce fuel, with cellulosic ethanol, we can take plant materials, biomass and agricultural waste and convert that into fuel.
"With such a promising economic and environmental opportunity at our feet, I think we should do everything we can to spur its development," said the Governor.
The Chesapeake Executive Council was established by the Chesapeake Bay Agreement of 1983 to coordinate the work of restoring and protecting the Chesapeake Bay. The council is the governing body for restoration efforts undertaken by Maryland, Pennsylvania, Virginia, the District of Columbia, U.S. Environmental Protection Agency and Chesapeake Bay Commission.
For more information, visit http://www.depweb.state.pa.us/, keyword: Chesapeake Bay.
The Rendell administration is committed to creating a first-rate public education system, protecting our most vulnerable citizens and continuing economic investment to support our communities and businesses. To find out more about Governor Rendell's initiatives and to sign up for his weekly newsletter, visit his Web site at: www.governor.state.pa.us.