California Town Goes Solar, Collectively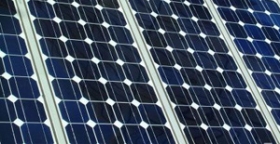 FOSTER CITY, Calif. - Thirty-six families in Clovis California joined together in a group-based purchase program, which raised 215 total kilowatts of solar power. As a result of the bulk purchase, the Clovis community will save 20 percent on the market rate for solar installations, and make a positive contribution to the air quality in the Fresno area by offsetting at least 4.3 million pounds of carbon over the next 30 years -- the equivalent of 4,536 barrels of oil.
Of the fourteen such programs SolarCity has operated in California, the average system size in Clovis was comparatively large, averaging at 5.8 kW, reinforcing the desire for these homeowners to completely eliminate household electric bills.
"By forming this collective, we're gaining enough leverage to really lower solar's barrier of entry, making it finally affordable to invest in systems large enough to pay for our electric bills and significantly increase property values," said Wellman Shew, a Clovis resident who helped lead the program.
SolarCity is the most popular installer in the Fresno area, with nearly double the number of 2007 solar projects as its nearest competitor. The company credits its success to superior technology and service, and an ability to ensure that systems provide long-term energy security in a region faced with rising electric rates.
"In Fresno, bringing financial benefits home and saving money from day one is essential to making solar succeed," said Lyndon Rive, CEO of SolarCity. "By structuring programs to take advantage of group purchasing, we're able to fully provide the economic and environmental advantages that come with the switch to solar electric power."
About SolarCity
Headquartered in Foster City, CA, SolarCity matches advanced solar power technology with a suite of installation services. The company's comprehensive offering removes the technical, regulatory, and financing barriers to solar power, helping customers make smart renewable energy choices that save money. Boasting the industry's most experienced team in solar systems design and installation and a proven track record of bringing new technologies to market, SolarCity is uniquely positioned to make solar power a practical choice for home owners and businesses.
Source: SolarCity