Bush would veto budget bill without Iraq money: aide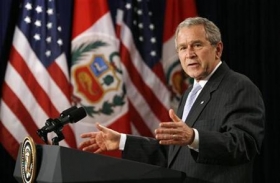 WASHINGTON (Reuters) - President George W. Bush would veto a broad budget bill under consideration by the U.S. Congress if it does not contain money for the Iraq war, his spokeswoman said.
"Because it does not have any money for our troops in Iraq, the president would veto the bill -- the House bill -- as presented," White House spokeswoman Dana Perino told reporters but she noted the bill also has to go through the Senate.
The U.S. Congress is rushing to try to pass a catch-all spending bill, known as omnibus budget legislation, before it leaves for Christmas recess.
Early this week, the House is expected to pass a version that does not include funding for the unpopular Iraq war, but later in the week the Senate is expected to add possibly $70 billion in unconditional money to continue fighting the war for the next several months.
The House would then have to sign off on that plan before it goes to the president.
(Reporting by Caren Bohan; Editing by Andrea Ricci)