EU makes sheep and goat tags compulsory by end of '09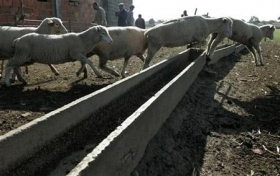 BRUSSELS (Reuters) - EU ministers agreed on Monday to introduce electronic tags for millions of sheep and goats across the European Union by the end of 2009, part of a strategy to prevent epidemics of contagious diseases like foot-and-mouth. Back in December 2003, the bloc's farm ministers agreed new animal tagging rules to replace a system where only flocks of sheep and herds of goats are tracked when moved from farm to farm, sold at market or sent for slaughter.
But at that time, electronic tagging systems were not sufficiently advanced or developed for this to be feasible, so it was agreed that more research needed to be conducted first.
After studying a European Commission assessment report of pilot projects, the ministers agreed to delay introducing compulsory tagging by two years to the end of 2009, rather than the start of January 2008. Italy and Spain voted against.
Unique identifier codes are carried by the animal either on an eartag or inside its digestive tract. The identification number can then be read using either a portable or fixed electronic reader.
Electronic identifiers cost between 1 and 2 euros ($1.43 and $2.87) per animal, while the minimum cost of hand-held readers is 200 euros and that of static readers 1,000 euros.
The aim is to ensure full and rapid traceability back to the individual animal in the event of a disease outbreak, since electronic tagging allows individual animal codes to be read directly into data processing systems.
(Reporting by Jeremy Smith, Editing by Peter Blackburn)