South Africa's ANC begins leadership vote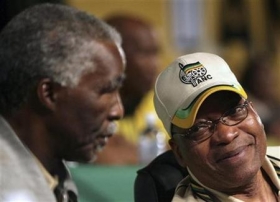 POLOKWANE, South Africa (Reuters) - South Africa's ruling ANC on Tuesday began voting in a leadership election expected to be won by Jacob Zuma and put him on track to become the country's president in 2009.
The vote, in which Zuma is favored to prevent President Thabo Mbeki winning a third term as ANC leader, started two hours later than scheduled on Tuesday morning, delegates said. It had already been delayed by two days.
"There was a delay. Voting started just after eight (0100 EST). The line is moving very slowly," said delegate Mmusi Kotane.
The vote will be counted manually rather than electronically at the insistence of Zuma's supporters, who say they fear rigging by Mbeki. The process is likely to take most of the day.
Some investors are nervous about a Zuma victory, fearing it could tilt South Africa to the left and change Mbeki's conservative policies, which have stoked a booming economy.
Zuma, who is backed by trade unions and the Communist Party has tried to woo investors and says he will not change economic direction.
But the rand fell to a three-week low on Monday partly due to fears about Zuma, although it recovered some ground on Tuesday.