Four Muslims killed, three wounded in Thai south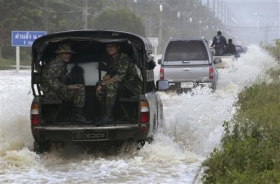 YALA, Thailand (Reuters) - Four Muslims were killed -- and one of them beheaded -- and two soldiers were wounded seriously in two attacks in Thailand's rebellious Muslim-majority far south, police said on Tuesday. Three village security guards and a village headman were ambushed and shot dead in Yala, one of the three southern provinces caught up in nearly four years of separatist insurgency in which more than 2,100 people have been killed.
"Their bodies were left near a pick-up truck and the village headman was beheaded, with his head left on the road," one said.
A fifth man was shot in the arm but escaped, they said.
The identity of the gunmen was unknown, but police said they presumed they were members of a militant group called RKK -- Runda Kumpalan Kecil, which means Small Patrol Group in Malay.
In a separate incident, a bomb wounded two soldiers seriously as they stopped at a grocery store in another Yala town, police said.
The bomb, hidden in front of the store, was detonated by a remote control when the soldiers went in, police said.
Nobody claims responsibility for the almost daily gun and bomb attacks in the former sultanate annexed by Thailand a century ago.
The region is populated mostly by ethnic Malays who complain of being made to feel like second class citizens in overwhelmingly Buddhist Thailand.
(Reporting by Surapan Boonthanom, writing by Orathai Sriring; Editing by Michael Battye and Alex Richardson)