WHO probes Pakistan's first bird flu death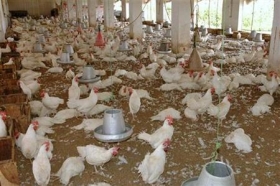 ISLAMABAD (Reuters) - Pakistani authorities and World Health Organization experts were trying to determine on Tuesday whether bird flu had passed from human to human after the country reported its first human death from the virus.
Pakistani health officials confirmed at the weekend that eight people had tested positive for the H5N1 bird flu virus in North West Frontier Province since late October, and one of the confirmed cases had died.
A brother of the dead man, who had not been tested, also died. It was not yet clear if he was a victim of bird flu.
Ministry of Health spokesman Orya Maqbool Jan Abbasi said the first man to catch avian influenza had been working culling poultry. He recovered but the two men who died were his brothers.
But Abbasi and other health officials said there was no suggestion of human to human transmission.
"Absolutely not," said Health Secretary Khushnood Akhtar Lashari. "The WHO is looking into all the things but whatever we have at the moment there's nothing to suggest that, remotely."
Humans rarely contract H5N1, which is mainly an animal disease. Experts fear the strain could spark a global pandemic and kill millions of it mutates to a form that spreads more easily.
Lashari said the man who had been culling poultry might have inadvertently brought the virus back to his home, where his brothers fell sick.
"He took his equipment along and the suspicion is the virus was in the equipment he was carrying," Lashari said. "These are conjectures. It will be established when they do the sequencing test of the virus."
SECOND WHO TEAM
The area of the outbreak, near the towns of Mansehra and Abbottabad, about 60 km (40 miles) north of the capital, Islamabad, is in the foothills of the Himalayas.
Partly forested slopes are dotted with villages and small chicken farms.
Abasi said 100 people with symptoms of flu living in the vicinity had been checked but all tested negative.
The last human case was reported on November 23, he said.
Of the seven people confirmed to be sick with avian influenza, six had recovered while one was being treated, a provincial health official said.
A three-member WHO team, joined by officials from the Pakistan National Institute of Health, traveled on Monday to Peshawar, the province's capital where the patients were treated. A second WHO team was due to arrive on Wednesday.
Authorities reported the last H5N1 virus case in wild birds in the area on November 30.
Bird flu first appeared in Pakistan in early 2006, and several outbreaks of H5N1 were reported this year.
The Pakistani cases bring to nearly 350 the number of people worldwide who are known to have contracted the H5N1 virus, which has killed more than 200 people since 2003.
(Additional reporting by Robert Birsel; Editing by Grant McCool)