Adriatic zone creates headache for fishermen and EU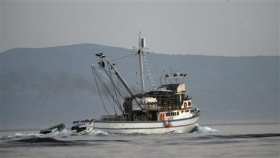 By Zoran Radosavljevic
SAVUDRIJA, Croatia (Reuters) - A strong northern wind came out of nowhere, forcing a small fishing fleet to hurry back to a tiny harbor that skirts Croatia's border with EU member Slovenia.
Danilo Latin dismissed the weather quirks with a wave of his calloused hand. "It is normal, the conditions and the catch vary from day to day, season to season."
The veteran fisherman is more worried by what is going to happen to a protected fishing zone, known locally as ZERP, which Zagreb wants to enforce on its side of the Adriatic from January 1.
The plan, embraced by fishermen and environmentalists, is strongly opposed by Slovenia and its bigger Adriatic neighbor, Italy, and threatens to slow down Croatia's EU membership talks.
The European Union -- which Croatia hopes to join around 2010 -- has asked Zagreb to scrap its plans, saying Croatia had agreed in 2004 to exempt EU members. Top Croat officials hinted a softening of the zone's enforcement might be in the works.
Dimitrij Rupel, foreign minister of Slovenia, which takes over the EU presidency on January1, threatened to block Zagreb's progress if the zone was enforced. He also said he was sure Croatia would give in, but local fishermen still held out hope.
"I expect the government to respect the will of the people and parliament's decision to enforce ZERP from January 1. We cannot be discriminated in relation to Slovenian and Italian fishermen," Latin said.
Croatia wants to apply the zone, which covers roughly 56,000 square km, to limit pollution and preserve what it says are dwindling fish stocks.
So far, Italian and Slovenian fishing boats have operated freely in the zone, confronted by Croatian patrol boats only if they infringed on territorial waters, up to 10 miles from the coast.
"Right now, it's the Wild West out there, no regulation, no rules, no control. Fishermen can use any means they want, even dynamite," Latin said.
CONCRETE INTERESTS
Davor Vidas, a Croatian-born expert on maritime law based in Norway, said Zagreb had a legitimate international right to enforce ZERP but presented its case poorly, while Italy and Slovenia were opposing it to protect their concrete interests.
"Slovenians have a problem with the sea border, while Italy does not want its fishing to be supervised," he said.
Croatia and Slovenia both quit Yugoslavia in 1991 but still dispute patches of sea and land border and Slovenia's demand to have access to international waters.
Daniele Kolec, a fisherman from nearby Umag, said Italian fishermen were better equipped and regularly fished on the Croatian side with big trawlers that destroy the sea bed.
He said enforcing ZERP was a necessity. "Otherwise, we'll only be able to stand by and watch what the Italians do."
"I think we need to define what is our national interest -- to enforce the zone or join the EU quickly," he said.
Vidas said Croatia and the EU should have a common aim -- sustainable and regulated fishing in the Adriatic. It was therefore a matter of agreeing the price for Italy's fishermen to continue operating in Croatian waters, he said.
Croatian statistics say Italians catch some 300,000 tonnes of fish in the Adriatic every year, compared to 30,000 caught by Croats and 3,000 netted by Slovenian fishermen.
"On our side of the Adriatic, Italians catch fish worth some 320 million euros per year. Their uncontrolled fishing has helped devastate fish stocks," said former parliament member Tonci Tadic, a vigorous supporter of the zone.
Tadic said ZERP also had an ecological component, vital for Croatia's lucrative tourist industry, based on its pristine Adriatic coast.
"Satellite pictures show on average 250 cases of oil spills from tankers in the Adriatic every year... We should therefore enforce at least the ecological part of ZERP," he said.
(Additional reporting by Igor Ilic; Editing by Dominic Evans)