Five regional banks to set up $125 mln fund: Boston Fed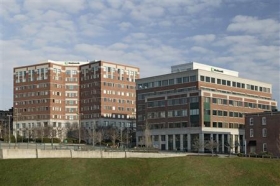 NEW YORK (Reuters) - Five banks in the New England region will announce a $125 million fund on Thursday to help subprime borrowers, the Boston Federal Reserve Bank said on Wednesday.
The Boston Fed said five banks -- Citizens Bank, Sovereign Bank, TD Banknorth, Webster Bank, and Bank of America <BAC.N> -- are announcing the fund to help some subprime loan borrowers in the region refinance their loans.
"The Federal Reserve Bank of Boston supports and applauds this effort while acknowledging that it addresses only a piece of the subprime mortgage problem," it said in the statement.
Boston Federal Reserve Bank President Eric Rosengren, along with senior officials of the banks, will hold a news conference announcing the initiative at 11:00 a.m. (1600 GMT) on Thursday.
(Reporting by Tamawa Kadoya; Editing by Chizu Nomiyama)