Foster care boosts IQ of children in orphanages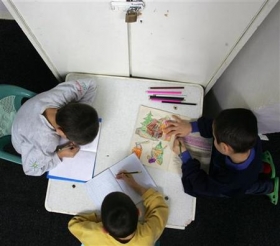 By Julie Steenhuysen
CHICAGO (Reuters) - Abandoned children in Romania who were removed from orphanages and put in foster care had far better reasoning, language, and other intellectual skills than those who remained, U.S. researchers said on Thursday.
The study is one of the first scientific investigations of the impact of foster care on reversing the damage of severe neglect to a child's developing brain.
Earlier studies have shown the physical and emotional effects left by the country's notorious communist-era orphanages.
The latest results show children who were moved to foster care enjoyed an average eight- to 10-point gain in intelligence quotient or IQ, a measure of aspects of intelligence such as language, reasoning, planning and problem solving.
"Kids who stay in institutions have greatly diminished IQs," said Charles Nelson of Children's Hospital Boston and a professor of pediatrics at Harvard Medical School.
"Their IQs were in the low- to mid-70s. In the United States, that would meet the criteria for mental retardation," Nelson said in an telephone interview.
Nelson, whose study was published in the journal Science, said the earlier a child was moved to foster care, the greater the improvement. Children who were placed in foster care before age 2 saw a 12- to 15-point increase in IQ.
'SENSITIVE PERIOD'
"Our findings suggest there may be a sensitive period spanning the first two years of life within which the onset of foster care exerts a maximal effect on cognitive development," he said in a statement.
The study, funded by the John D. and Catherine T. MacArthur Foundation, began in the capital Bucharest in 2000 at a time when Romania had no foster care system. It included 136 children under 31 months living in six institutions.
Nelson said babies in these institutions often lie on their backs for hours with little outside stimulation or close contact with a care giver.
He and colleagues recruited foster parents through extensive advertising, and then screened them for suitability. They ended up with 56 families.
The researchers placed 68 of the children in these homes, keeping siblings together. Their average age at placement was 21 months. The rest remained institutionalized. A third comparison group of 72 children lived with their families in Bucharest.
Overall, the children placed in foster care performed better when tested at ages 3-1/2 and 4-1/2 than those who stayed behind.
But even the foster care children saw lingering deficits, with IQ scores nearly 10 points below the children who had never lived in an institution.
"The intervention worked best for kids placed under age 2, but it didn't completely erase the negative effects," Nelson said.
In the wake of the study's initial findings, the Romanian government barred institutionalizing children less than 2 years old unless the child is severely disabled.
Nelson said the study could serve to guide policy in other countries with large populations of abandoned children.
"The hope is that there will be major changes in other places as well," he said.
(Reporting by Julie Steenhuysen, Editing by Maggie Fox and Xavier Briand)