BuildingGreen Announces 2007 Top-10 Products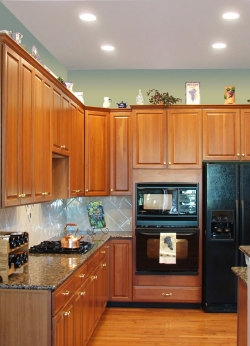 BuildingGreen, Inc., publisher of the GreenSpec Directory and Environmental Building News ( EBN), announced its annual Top-10 Green Building Products. The Top-10 consists of the ten most exciting products added to GreenSpec in the last year, which are detailed in a press release available online at www.buildinggreen.com/press/. 
"¢ Collins Pine FreeForm, from The Collins Companies, is a particleboard that contains no added urea-formaldehyde—a melamine-formaldehyde binder is used instead—and its wood content is certified to Forest Stewardship Council (FSC) standards. Chamber testing has shown that the product meets Phase 1 California Air Resources Board (CARB) standards for formaldehyde emissions. More information is available at www.collinswood.com.
Ӣ Alpen Fiberglass Windows, from Alpen Energy Group, are the highest performing windows in the world. For more information, see www.alpeneg.com.
Ӣ The vapor-permeable wallcovering 180 Walls, from Milliken and Company, is made from 100% pre-consumer recycled polyester. For more information, see www.180walls.com.
Ӣ The Evolution 800 Series SHE98M Dishwasher from Bosch is the most energy-efficient dishwasher available in the U.S. It uses just 190 kilowatt-hours (kWh) of electricity per year and has an energy factor of 1.14 (73% higher than the Energy Star requirement). Bosch is the only appliance manufacturer with all of its applicable products meeting Energy Star standards. More information is available at www.boschappliances.com.
"¢ Greenplay Children's Furniture from Skyline Design is made with environmentally friendly and healthy materials, including post-consumer recycled plastic, sunflower hulls, FSC-certified wood, and paints with very low levels of volatile organic compounds. The company also has a product take-back program. More information is available at www.skydesign.com.
Ӣ The Cube3 Ultra Urinal from Caroma is an ultra-low-flush urinal that uses just one pint (0.5 liters) of water per flush. For more information, see www.caromausa.com.
Ӣ LifeGuard Cable from Houston Wire and Cable Company is a low-smoke, near-zero-halogen alternative to standard electrical cable. For more information, see www.houwire.com.
Ӣ Wireless Controls from EnOcean provide a way to retrofit lighting and other switching systems for better energy efficiency. More information is available at www.enocean.com.
Ӣ The SunEye hand-held electronic device from Solmetric Corporation allows solar installers and green builders to measure solar shading and calculate solar access on site. For more information, see www.solmetric.com.
Ӣ An LED Downlight, the LR6, from LED Lighting Fixtures, Inc. (LLF) offers an efficacy of 60 lumens per watt. For more information, see www.LLFinc.com.