Pfizer exec gets bail in Nigeria trial over drug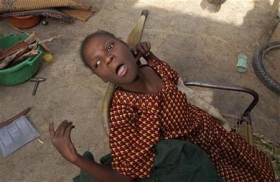 KANO, Nigeria (Reuters) - A Nigerian court granted bail on Tuesday to a former executive of the local arm of pharmaceuticals firm Pfizer <PFE.N> in a protracted legal battle over a 1996 drug test that Nigeria says killed 11 children.
The government of northern Kano state has filed a lawsuit claiming $2 billion in damages and is pressing criminal charges against Pfizer over the testing of the antibiotic Trovan, which it says also left many children with permanent disabilities.
Pfizer denies all the charges. It says the children were killed or hurt by meningitis, which killed 12,000 children in six months that year.
Sam Ohuabunwa was one of three former executives of the Nigerian arm of Pfizer who were ordered arrested by a Kano High Court in December after they failed to appear for hearings.
Ohuabunwa was never actually detained, and was present in court on Tuesday when he was granted bail.
"I will simply comply with the normal procedure by granting him bail, which includes (guarantees of) 5 million naira ($42,700) and two sureties," said Judge Shehu Atiku.
The federal government has also filed separate civil and criminal lawsuits against Pfizer in the capital Abuja, claiming an additional $6.5 billion in damages.
The civil and criminal cases were launched by the state and federal governments in May 2007, but court hearings have remained stuck on technicalities, dragging on from one adjournment to the next. No substantive issue has been tackled.
Atiku had granted bail in January to another former member of Pfizer staff, Segun Dogunro, on health grounds.
On Tuesday, the court adjourned the case to April 28 when it would hear preliminary arguments, including a request for the extradition of three Americans involved in the clinical trial.
(Reporting by Mike Oboh; Writing by Tume Ahemba; Editing by Caroline Drees)