Beijing to switch to cleaner fuel: report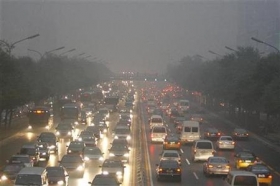 BEIJING (Reuters) - China will phase in cleaner motor fuel in Beijing in the next two months while keeping pump prices unchanged, a local newspaper said on Tuesday, in a move to clean the capital's smoggy skies ahead of the Beijing Olympic Games.
Oil product wholesalers and retailers will be required to start supplying gasoline and diesel fuel conforming to the cleaner Euro IV standard from January 1, and complete a replenishing of their tanks with the new fuel by the end of February, the Beijing News said.
The cost of Euro IV fuel, which permits 50 parts per million (ppm) of sulfur in gasoline, is 0.4 yuan per liter higher than Euro III fuel, which permits 150 ppm.
The higher cost for Euro IV standard fuel will not be passed on to consumers in the form of higher prices, however, as the National Development and Reform Commission has not granted the necessary permit, the Beijing News said, quoting an official with the Beijing Administration for Industry and Commerce.
(Reporting by Jim Bai; Editing by Edmund Klamann)