Singapore, Taiwan trade barbs over U.N. referendum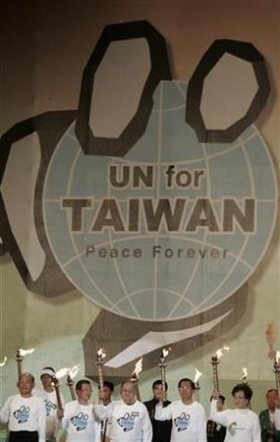 TAIPEI (Reuters) - Singapore and its close informal ally Taiwan traded barbs this week over a Taiwan referendum asking voters about United Nations membership, with Singapore calling the move "provocative" and "irresponsible."
China, which has claimed sovereignty over self-ruled Taiwan since the Chinese civil war ended in 1949, and its 170 diplomatic allies oppose U.N. membership for Taiwan.
Beijing has threatened to use force if the island formally declares statehood, and some fearful foreign governments see U.N. bids as expressions of sovereignty.
"It does not further Taiwan's interests in any way," a Singapore foreign ministry spokesperson said on Monday of the referendum. "It can only raise cross-strait tensions, reduce Taiwan's international space and leave Taiwan even more isolated.
"The move will have serious repercussions on the whole region, and risks jeopardising the peace and stability of the Asia Pacific," the spokesperson, who was not identified, said in a statement on the foreign ministry's website, echoing similar opposition statements from senior U.S. officials.
Taiwan's foreign ministry rejected Singapore's comments late on Tuesday.
"On certain issues, Singapore can't experience Taiwan's needs to develop as a sovereign nation," the ministry said in a statement. "It makes people feel regret."
Taiwan's ruling Democratic Progressive Party plans to hold the referendum alongside presidential elections in March, ignoring warnings from Washington and Beijing.
Fifteen recent attempts by Taiwan to join the United Nations have failed because the island is recognized by just 24 mostly small, impoverished countries around the world.
(Reporting by Ralph Jennings; Editing by Jerry Norton)