Study shows new way to fight Chagas disease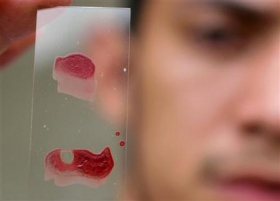 By Michael Kahn
LONDON (Reuters) - A new, low-cost screening strategy could make it easier for poor countries to target and treat Chagas disease, a deadly parasite-borne condition found mainly in Latin America, according to a new study.
Fighting the disease has traditionally focused mainly on spraying campaigns to kill the bug that carries the single-cell parasite causing Chagas disease, which affects an estimated 11 million people in the Americas.
But a team of U.S. researchers showed they could use easy-to-collect data on the number of insects found in homes during spraying campaigns to identify clusters of at-risk children who should be tested for Chagas disease.
This then allows health officials to better target the disease now creeping into urban areas without having to test entire communities, said Michael Levy, a disease ecologist at the U.S. National Institutes of Health, who led the study.
"The exterminators are really telling us what kids need to be tested," said Levy, who conducted the study while at the U.S. Centers for Disease Control and Prevention. "It is very easy to add on to existing programs."
Chagas disease is usually transmitted to humans by a blood-sucking insect called an assassin bug or a kissing bug. The insect carries a protozoan parasite called Trypanosoma cruzi, which kills more people in the region each year than any other parasite-born disease, including malaria, Levy said.
Once infected, people can live with the condition for years before symptoms occur, making it critical to attack the condition as early as possible, he added.
In the study, the researchers tested 433 children in a poor neighborhood in the southern Peruvian city of Arequipa, starting with homes where exterminators had reported finding the most bugs.
Then, when they found an infected child, the researchers screened everybody living within a 20-metre (65.5 ft) range and found that those with the disease all lived in tight clusters, according to the study published in the Public Library of Science journal PLoS Neglected Tropical Diseases.
"We started with children who lived around a lot of bugs and only tested around the children who were infected," Levy said in a telephone interview. "It is a two-step strategy."
This gives health officials in poor countries a better chance at getting life-saving drugs to a greater number of children, he added.
And while this strategy would not likely identify every case, the researchers essentially detected 83 percent of the infections while only needing to test about a quarter of the overall population, Levy said.
"You are going to get as many kids as you can this way," Levy said.
(Reporting by Michael Kahn; Editing by Sami Aboudi)