Biodegradable Caskets: Composting your relatives?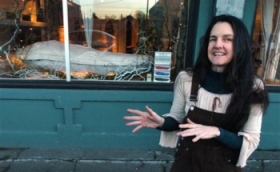 Source: Triple Pundit
Green goes under ground, six feet under and currently being spear-headed in Oregon by and environmentally-friendly funeral products dealer by the name of Cynthia Beal. She is the founder of The Natural Burial Co. in Portland, Oregon, the healthy way to recycle yourself and your casket upon taking the inevitable dirt nap. Cynthia herself wishes to become an Oregon cherry tree when she dies, and she has found a way to make that happen -- her body, a burial, and her own biodegradable coffin.
These biodegradable coffins are the focal point of an eerie and surprising green business; perhaps Beal described it properly when she said "it is composting at its best." Her shop officially opens in January, and kissing the storefront window is a United Kingdom sourced Ecopod, a biodegradable coffin constructed out of recycled newspapers. These kayak-shaped coffins are the focal point of the up and coming "natural burials," which are formaldehyde-free, and buck the usual cement vaults, laminated caskets or chemical lawn treatments. The result, burials that are not harmful to the environment.
What of cremation? It was considered far more eco-friendly than burials in graveyards but the wide-spread use of fossil fuels to take a body from ash to urn has raised eyebrows recently. These all-natural burials have been popular in Europe for years but until recently it has been a dead issue in the U.S. Within the past few years "green cemeteries" have sprouted up in California, Texas and New York, just to name a few. Currently, the options on these healthy coffins range from fair-trade bamboo to natural-fiber shrouds to caskets lined with unbleached cotton.
The market is a big one, with death being as certain as taxes and a plump population of baby boomers the demand is sure to rise and profits are sure to follow. U.S. funeral homes currently generate an estimated $11 billion in revenue annually and poised to blossom in the upcoming decades.
The biodegradable coffins range in costs from $100 for a cardboard box up to more than $3000 for a spruced up "green" body box. Though some critics, such as Bob Fells, of the International Cemetery, Cremation and Funeral Association, said that, "it's hard to tell if it's a fad or if it's here to stay." Further more there is actually a Green Burial Council which is working on certification programs to verify the quality and commitment of providers who are on the path to going natural. "What we are trying to do is make sure this concept doesn't get 'green-washed' down the drain," said Joe Sehee, the council's founder and executive director.