Jerusalem municipality announces settlement project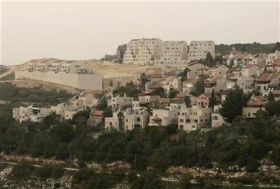 By Brenda Gazzar and Arshad Mohammed
JERUSALEM (Reuters) - Israel's Jerusalem municipality announced plans on Monday to build 600 new housing units in a Jewish settlement, in an area of the occupied West Bank the Israeli government considers part of the holy city.
The decision to build within the settlement of Pisgat Zeev coincided with a visit by U.S. Secretary of State Condoleezza Rice, who is trying to bolster peace talks in which Israeli settlement activities have caused friction with Palestinians.
Commenting on the project, Rice said at a news conference in Amman: "We continue to state America's position that settlement activity should stop, that its expansion should stop -- that it is indeed not consistent with 'road map' obligations."
Rice was referring to a long-stalled, U.S.-backed peace plan that calls on Israel to halt all settlement activity in the West Bank and obliges Palestinians to rein in militants.
Asked about the proposed new construction in Pisgat Zeev, a spokesman for Prime Minister Ehud Olmert said: "I am not aware of it."
Earlier, Olmert told legislators from his Kadima party that Israel had made no secret it intended to continue building in what he called Jewish neighborhoods of East Jerusalem and in West Bank settlements it intends to keep in any peace deal.
"These are negotiations that are being conducted sincerely because we are not trying to hide anything," said Olmert, referring to talks with Palestinian President Mahmoud Abbas and the Israeli settlement policy that has raised U.S. concern.
In recent months, Israel has announced plans to build hundreds of housing units for Jews in and near Arab East Jerusalem, which it captured along with the rest of the West Bank in the 1967 Middle East war.
A report by Israel's Peace Now group said there has been a surge this year in new projects in the area compared with two tenders issued in 2007 for the construction of 46 homes in and around East Jerusalem.
Israel regards all of Jerusalem as its capital, a claim that has not won international recognition. Palestinians want East Jerusalem to be the capital of the state they hope to establish in the West Bank and Gaza Strip.
NEW ZONING
A spokesman for the Jerusalem Municipality said the city's planning and construction committee has approved the Pisgat Zeev housing project on land that had been zoned for industry.
Before construction can begin, the proposal must be approved by Israel's Interior Ministry and the public can raise objections.
"In light of the prime minister's statement that construction in Jerusalem neighborhoods will continue, I believe the government will not delay this project," Jerusalem Mayor Uri Lupolianski said in a statement.
Rice wrapped up a visit to Israel on Monday by sitting down with the lead Israeli and Palestinian negotiators seeking to reach a statehood deal by the end of this year.
There has been no visible progress in the discreet talks between Israeli Foreign Minister Tzipi Livni and former Palestinian prime minister Ahmed Qurie on how to solve the six-decade conflict.
The effort, launched by U.S. President George W. Bush in November, has been marred by disputes over Israeli settlement building, violence and political divisions on both sides.
Close to half a million Jews live on West Bank land captured by Israel, including East Jerusalem. Some settlers claim a God-given right to live in lands they call Judea and Samaria. About 2.5 million Palestinians reside in the West Bank.
(Reporting by Brenda Gazzar, Adam Entous, Arshad Mohammed and Wafa Amr; Writing by Jeffrey Heller; Editing by Alison Williams)