Veterinarian suggests top 10 holiday gift ideas for pets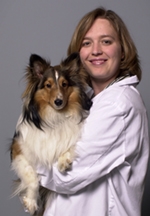 WEST LAFAYETTE, Ind. - As you check gifts off your holiday shopping list, consider the gift of health for your pet, says Lorraine Corriveau, a wellness veterinarian at Purdue University's School of Veterinary Medicine.
Here is her top 10 list of gift ideas for pets:
1. A toy or chew toy that keeps dogs and cats busy during gift opening time and keeps them from chewing on ribbons and wrapping paper.
2. Healthy treats that help avoid the temptation of feeding pets from the holiday table. Just be careful not to overdo it.
3. A new leash and collar or a gift certificate for training will help remind owners and pets to exercise. A leather or nylon collar or a Gentle Leader or Easy Walker will be necessary if the owners plan to take the pet to obedience class. Find out what works best for the dog and get an appropriate sized collar, possibly with a retractable leash.
4. Your can give your pet permanent identification by injecting a microchip the size of a kernel of rice just under the skin at the base of the neck. All veterinarians and humane societies have scanners that can read the number on the chip, which is tied to a registry. A one-time investment with a small registration fee means that if the pet is lost or is involved in a disaster, the owner's name and address is on file. Other companies offer lost pet insurance with registration of your pet.
5. Lower-calorie food or life-stage food will help an overweight pet. Start the food slowly after the holidays, and then get in the habit of feeding it.
6. A grooming kit or grooming gift certificate will help pets, especially those with high-maintenance coats. Even short-coated dogs need to have old hair removed, and that means less hair in the house. Grooming also gives owners a chance to look and feel their pet's skin to identify any problems. The skin can reflect changes in the body organs, so regular grooming can help catch health problems earlier.
7. About 80 percent of dogs and cats need dental care, so get a certificate for a dental prophylaxis or buy a dental care kit from a veterinarian or pet store.
8. A new bed or kennel will give the pet a place to sleep or curl up away from family activity. Cages and crates are a good gift for new or growing dogs. A collapsible cage would be an excellent present for those who travel with their pet, Corriveau says. A new bed with a removable, washable cover is an excellent idea for a pet owner who likes to keep things neat.
9. Don't give pets as presents, but give a certificate for a new puppy or pet health-care package. Most shelters, humane societies, pet stores and breeders will offer gift certificates to pick the pet out after Christmas when the entire family can contribute to the decision. If someone already has a new puppy or kitten, buy the first-year package of health care at a veterinary clinic. Ask the clinic if it can package the first year of vaccinations, worming, neutering and microchip in one bundle.
10. Donate to a nonprofit group or memorial fund for the owner whose pet passed away this year. Such donations are appreciated by animal-loving friends, Corriveau says.