India to provide subsidy for solar power plants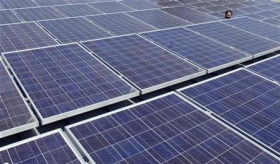 NEW DELHI (Reuters) - India will subsidize the running of solar power plants to help develop a renewable energy infrastructure, where high costs can be prohibitive, the minister for renewable energy said on Wednesday.
Renewable energy accounts for about 7.5 percent of India's installed generation capacity of 127,673 MW, a rate that compares favorably with much of the rest of the world.
Much of this capacity is wind-based, and the share of solar power is small.
"My ministry will provide financial assistance amounting to 12 rupees (30 cents) per kilowatt hour in case of solar photovoltaic and 10 rupees per kilowatt hour in case of solar thermal power fed to the electricity grid," Vilas Muttemwar said in a press conference.
The private sector is expected to invest about 10 billion rupees ($253.7 million) in solar plants eligible for aid under the scheme during the five years to 2012, Muttemwar said.
A maximum capacity of 10 megawatt (MW) in each of the country's states and a maximum of five MW per developer will be considered under the scheme. Capital investors will not be allowed to apply, a statement from the ministry said.
Developers will sell electricity to state-run utilities and the incentives will be paid to them based on the tariff the utilities provide, the statement said.
The incentives, for a period of 10 years, will be over and above any financial assistance provided by the states, said V. Subramanian, secretary to the ministry.
($1=39.4 rupees)
(Reporting by C. Jacob Kuncheria, Editing by Mark Williams)