HP Expands Recycling Push in China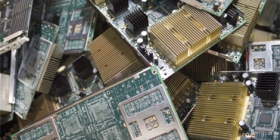 IT industry leaders are increasingly finding that going "green" is good business. In addition to increasing the energy efficiency of its operations and making use of more economically viable renewable power sources, companies such as HP are expanding their recycling programs.
HP operates recycling centers in more than 45 countries. In 2006, it recovered 187 million pounds of electronics globally, 73% more than IBM, its closest competitor, effectively closing the electronic product lifecycle loop. Having reached the 1 billion pound recycling mark in 2004 the company plans to double its recovery rate and hit a cumulative 2 billion pound target by year-end 2010.
Looking to do its part in rapidly industrializing China, HP in September announced that it would extend its recycling program beyond corporate customers to include consumers and small and medium-sized businesses (SMBs). "HP has established a network of 30-plus drop-off points nationwide where consumer/SMB customers can elect to return HP (hardware) products," Jean-Claude Vanderstraeten, president, environment for HP Asia Pacific told Triple Pundit. "HP collects the returned products from the drop-off centers and recycles them. The program was launched last September and is being expanded."
HP Asia Pacific's consumer and SMB recycling take-back program is an extension of that available to the company's commercial business and enterprise customers in China. "HP offers (hardware) product take-back and recycling to all its commercial business/enterprise customers. The service is described in www.hp.com/recycle. As part of this service, HP takes back both HP and non-HP products. The service is generally offered 'free-of-charge' (with some boundary conditions). Any commercial business/enterprise customer can access the service by submitting a request in HP website," Vanderstraeten explained.
As part of the new take-back program, SMBs and individual consumers can drop off HP-branded technology equipment at HP service centers in 31 major Chinese cities. The service centers accept free of charge any HP printer, scanner, fax machine, notebook or desktop computer, monitor, handheld device, camera and associated external components such as cables, mice and keyboards. The company also runs the HP Supplies Planet Partner program, which collects and recycles HP branded print cartridges.
"After collection, HP will consolidate the products and sort for recycling locally in China.
The first phase of the program covers 31 cities. Subsequent phases will increase the number of drop-off points in those cities and include additional cities over the next year," Vanderstraeten added.
Its corporate/enterprise recycling program is part of a broader, comprehensive asset management service, according to Vanderstraeten. In addition to recycling, HP offers these customers a variety of product end-of-life management services, including equipment donation, trade-in, asset recovery and leasing, described on HP's website, "which ensures customers can recover and maximize the value of the assets they dispose off."