PM orders Naples schools to open despite garbage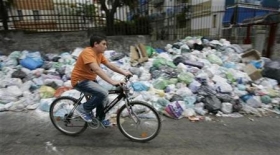 By Laura Viggiano
NAPLES, Italy (Reuters) - Italian Prime Minister Romano Prodi ordered Naples schools to reopen on Monday despite fears that stinking heaps of uncollected garbage in the streets could spread disease.
More than 100,000 tonnes of refuse is estimated to be festering on the roadsides of the southern Italian city and surrounding areas after garbage trucks stopped operating two weeks ago because all landfills are full.
Residents protesting against plans to reopen an old landfill clashed with police and overturned vehicles on Saturday, and several schools in the hardest-hit areas said they would stay shut after the winter break until the situation improved.
Prodi, who has warned the crisis threatens Italy's image and blames extremists for stirring opposition to reopening the landfill, said he was offended by the decision to shut schools and ordered them to reopen as scheduled.
"The children who stay away from school are not going to the Aosta Valley or to the Dolomites, but will remain in the area with the same polluted atmosphere," he told reporters on Sunday.
"If there is an emergency situation in any school, I'll send (crews) tonight to clean so that they can reopen tomorrow."
But some Neapolitans said they would not send their children to school under current conditions, while the mayor of a town in Naples' outskirts said schools in his area would be shut despite Prodi's orders, Ansa news agency reported.
EU WARNING
Protests continued on Sunday at the entrance to a landfill shut in 1996 that authorities want to reopen, a day after demonstrators hurled stones at police, occupied railway tracks, overturned small vehicles and blocked the entrance to the site.
A priest held mass on Sunday for protesters gathered there. Residents fear reopening the dump will cause health problems, while officials say mafiosi have infiltrated the protesters to exploit the situation for their own gain.
Prodi has said he will meet officials on Monday and then his top ministers on Tuesday in an effort to resolve the problem.
The rubbish crisis is the latest in a series to have gripped the region in recent years, blamed largely on mismanagement, corruption and mafia involvement.
Italy declared a state of emergency over waste in Campania, the region of which Naples is the capital, in 1994. But successive trash supremos appointed by the government have failed to prevent problems from reappearing periodically.
The European Commission has already warned it could file a lawsuit against Italy in the European Court of Justice for failing to meet EU requirements to dispose of rubbish without endangering health and the environment.
Italy needs to redouble its efforts rather than just talking about solving a problem that "has been dragging on for 14 years," EU Environment Commissioner Stavros Dimas told Italy's La Repubblica newspaper.
"If we decide to go to the second stage of the (legal) procedure, it is clear that declarations of goodwill will not be enough," Dimas said.
"The Italian authorities must act, take concrete and immediate measures to resolve the situation keeping the needs of public health and the environment in mind."
(Additional reporting by Gianluca Rotondi in Bologna; writing by Deepa Babington; editing by Andrew Roche)