South Korea to ban single-hulled tankers after spill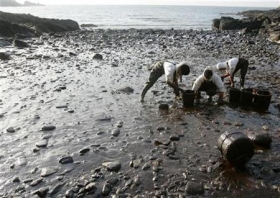 SEOUL (Reuters) - South Korea will ban single-hulled tankers from traveling in its waters by 2011, earlier than the international regulation that calls for a ban from 2015, Seoul's maritime ministry said on Monday.
A single-hulled tanker was involved in South Korea's worst oil spill in December, leaking around 10,500 tons of crude oil after a seabound crane mounted on a barge punched holes in the tanker's hull.
As of January, 43 percent of the crude imported into South Korea was carried by single-hulled tankers.
"Most of the tankers over 25 years of operation will be banned sometime in 2010, and we won't permit them starting January 1, 2011," said Lee Ki-sang, the official responsible for offshore operations at the ministry.
This is the first time the ministry has officially set a time frame for banning the tankers.
The ministry had previously said it was aiming to phase out single-hulled tankers as soon as 2010.
In December 2003, the International Maritime Organization (IMO) set 2010 as the principal cut-off date for single-hulled oil tankers, with a strictly limited provision permitting some vessels to continue in service until no later than 2015.
European countries have been accelerating efforts to phase out single-hulled tankers, and EU member countries are to ban vessels that are 15 years old or more from loading heavy fuel oil within 200 miles of their coastlines.
The very large crude carrier (VLCC) Hebei Spirit was about five miles outside a South Korean port on December 7, waiting to unload its cargo of some 260,000 tons of crude oil from the Middle East, when it was struck by a barge.
The discharge was about a third of the size of the 1989 Exxon Valdez spill of crude oil onto Alaskan shores, which was the costliest on record.
(Reporting by Angela Moon; Editing by Sei Chong)