China says product safety push a complete success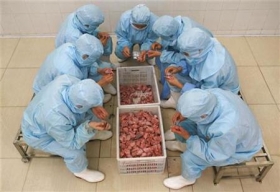 By Ben Blanchard
BEIJING (Reuters) - China declared on Monday that its four-month campaign to ensure food and product safety had been a total success, with all goals being met months before Beijing hosts the Olympics and 600 companies banned from exporting toys.
But deputy quality watchdog chief Pu Changcheng also sought to play down a series of scandals which beset the made-in-China label last year.
Chinese media report problems involving substandard food, drugs and other goods almost every day. The issue burst into the international spotlight when tainted additives exported from China contaminated pet food in North America.
Millions of Chinese-made toys were recalled in 2007, many by U.S. giant Mattel, mainly due to excessive levels of lead paint.
"The tasks of the rectification campaign have been fulfilled completely and its objectives have all been reached," Pu told a news conference.
"The illegal practice of using non-food materials and or recycled food to produce and process food has been basically eliminated. The illegal practice of abusing food additives such as preservatives and coloring has been effectively held back."
Officials inspected more than 3,000 toy exporters and their suppliers, and revoked 600 export licenses, Pu added.
"The overall quality of Chinese-made toys will be further improved and safety will be fully guaranteed," he said.
The official People's Daily said in December that the latest campaign, spearheaded by Vice Premier Wu Yi, had been a valuable experience, and it praised the hard work of the inspectors.
Pu repeated what has become a standard government line that the media, particularly the foreign press, had overhyped the problem with their hysterical reporting, adding that the issue should not be "politicized."
"It ought to be said that some of the food and product safety problems of last year had also happened in previous years," he said.
"Some of the problems were dealt with in an appropriate and timely way by our close cooperation with related countries and regions, and had neither serious consequences nor seriously negative influences," Pu added.
Food safety problems are particularly pronounced in China's vast countryside, where lax oversight of the many small factories has contributed to a string of food poisoning incidents.
Pu said one of this year's objectives would be to step up supervision over those small manufacturers.
"We must fight to basically solve the question of their unstable product quality and lack of safety in the shortest possible time," he added.
Public fears about food safety grew in 2004 when at least 13 babies died of malnutrition in Anhui province after they were fed fake milk powder.
(Editing by Roger Crabb)