Floods cause havoc in southern Africa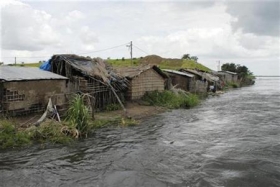 By Shapi Shacinda
LUSAKA (Reuters) - About 1.5 million Zambians may have to flee their homes because of floods in southern Africa that have cut off vast areas of Zimbabwe and killed six people in Mozambique.
Zambian state television showed people carrying beds, chickens and goats above their heads as they moved through surging waters. Half of the country has been put on alert.
"I have lost everything that I owned and my children cannot go to school because the roads have been destroyed and the bridge we normally cross to get to other places has been damaged too," one villager said.
Tens of thousands are at risk in the region after heavy rain, said the United Nations which was consulting with governments on Tuesday to assess the flood damage.
Mozambique officials said six people had died. Authorities in Zambia and Zimbabwe said there had been casualties but could not be specific.
Raging waters in Zimbabwe, which is suffering from an economic crisis marked by food and fuel shortages, have destroyed infrastructure and cut road links with huge swathes of the country.
Relentless rain has left fields waterlogged and damaged crops, raising fears of more acute food shortages in a country that has struggled to feed itself for years.
Zambia has said 1.5 million people would be displaced by the floods. Hundreds have sought refugee in schools after houses collapsed in the capital Lusaka. Bridges have been destroyed and a major power line cut, officials said.
Officials said 500 houses collapsed in Monze, 200 km (125 miles) south of Lusaka. Others families were trapped on an island because rising waters had cut them off from the mainland.
In Mozambique, more than 7,000 people have been rescued but the situation remains critical and a lack of transport and fuel is hurting rescue efforts, officials said.
The U.N. said an estimated 56,000 people had been affected after sharp rises in water levels on the Zambezi, Pungue, Buzi and Save rivers.
(Additional reporting by Nelson Banya in Harare; Writing by Michael Georgy; editing by Robert Woodward)