Administration Will Miss Deadline for Polar Bear Endangered Species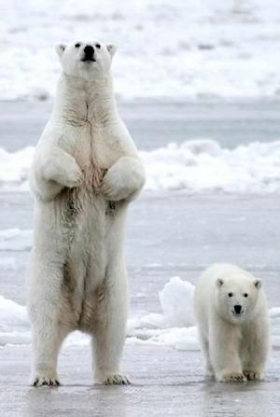 Excuses, Excuses
The administration is required by law to make its decision on the polar bear by Wednesday, but they have already postponed the announcement this week and we may not hear from them for up to another month. A government statement said analysis of scientific data and public comment will take more time.
Every week it seems there is new evidence that the sea ice is melting and that the polar bear's habitat is disappearing. The U.S. Geological Survey released a report this past September predicting that if current warming projections continue, two-thirds of the world's polar bears will likely be extinct by 2050, including all of the polar bears in Alaska. With a timeline like that, it is hard to understand how the polar bears aren't already protected.
We're not going to take it
Greenpeace, The Center for Biological Diversity and the Natural Resources Defense Council (NRDC) will begin legal action on Wednesday with a formal notice to sue as required by the Endangered Species Act. According to the Endangered Species Act, a listing process of no longer than two years must be adhered to, but in this case almost three years have passed since the scientific petition was submitted in February 2005. The coalition first sued the Bush administration in December 2005, when it missed its first deadline in this process. Responding to the suit in February 2006, the U.S. Fish and Wildlife Service found that protection of polar bears "may be warranted," and began a full status review of the species. Then on December 27, 2006, the Service announced its proposal to list the species as "threatened" and had one year to make a final listing decision. Now it is clear that the U.S. Fish and Wildlife Service will miss the legal deadline on January 9, 2008.
What this means for the polar bear
Listing under the United States Endangered Species Act -- America's safety net for plants and animals on the brink of extinction -- would provide broad protection to polar bears, including a requirement that United States federal agencies ensure that any action carried out, authorized, or funded by the United States government will not "jeopardize the continued existence" of polar bears, or adversely modify their critical habitat. Greenpeace will continue to apply pressure with our allies and supporters to ensure that the government does everything possible to reduce global warming pollution and protect the polar bear and its arctic habitat.
Thin Ice
Polar bears live only in the Arctic and are totally dependent on the sea ice for survival. A growing body of evidence shows that the Arctic ice is vanishing much faster than previously expected. The thick multi-year ice has been shrinking eight to 10 percent per decade, with some scientists predicting that the Arctic could be ice-free in summer as early as 2030 Last month, after reviewing his own new data, NASA climate scientist Jay Zwally predicted the Arctic Ocean could be nearly ice-free at the end of summer by 2012.
In September of 2007, scientists reported that the Arctic ice cap has lost one million square miles – an area six times the size of California – shattering records from the past several decades and beating predictions not expected until mid-century. In the past few years, polar bears in Alaska have been drowning at alarming rates and found cannibalizing eachother. Already, one population of polar bear in Alaska is in decline.
Read more about the polar bear.
Thanks to all of you who took action to protect the polar bear. We couldn't have come this far without you! We hope that you will continue the fight until the listing is final, and the government takes real steps to stop the global warming that threatens this and many other species.