Singapore opens "green" airport terminal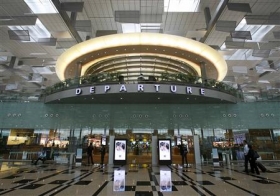 By Daryl Loo
SINGAPORE (Reuters) - Singapore opened a new "green" airport terminal on Wednesday, boasting energy-saving skylights, a butterfly garden and over 200 species of foliage spread over enough floor space to cover 50 soccer fields.
The S$1.75 billion ($1.22 billion) terminal at state-owned Changi Airport received its first passengers, who landed on a Singapore Airlines flight from San Francisco amidst a high-powered welcoming committee including government ministers.
The new terminal, Singapore's third, boosts Changi's total passenger capacity by around 45 percent to 70 million, as airports throughout Asia expand to gear up for predictions of strong growth in regional travel.
Among the 28 aerobridge gates in the terminal are eight that are specially designed to handle the new Airbus A380, the world's largest passenger jet, the first of which is being flown by Singapore Airlines.
But booming air travel is seen by environmentalists as bad news for greenhouse emissions, with aviation likely to be a controversial topic in discussions run by the United Nations to choose a pact to follow the Kyoto Protocol on climate change.
The terminal is designed to run on lower energy costs compared to the older terminals, mainly via natural lighting from the 919 skylights and by positioning air-conditioners nearer to floor-level.
"The cost to run the terminal should be lower. But it's still too early to project what the cost-savings will be," said a spokesman from the Civil Aviation Authority of Singapore, which manages the airport.
The terminal has a striking five-storey high wall of hanging plants, a butterfly garden and koi ponds dotted amid its gleaming 380,000 square meters (4 million sq ft).
But for Australian traveler Dawn Massey, 51, transiting with her husband on a flight back to Perth from the United Kingdom, the green features were barely noticeable.
"That's not something very important to us," said Massey, adding that she was more impressed with the new terminal's cleanliness and orderly signs.
"It's very reflective of Singapore actually," she said. The city-state has long cultivated a reputation as a "garden city" and is also well-known for the cleanliness of its streets, where chewing gum is banned and littering draws heavy fines.
Singapore is competing against Hong Kong and Bangkok to be the region's top aviation hub.
($1=1.430 Singapore Dollar)
(Editing by Neil Chatterjee)