New U.S. audit questions efficacy of Iran sanctions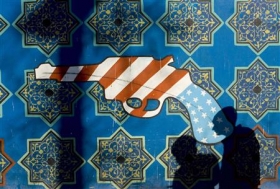 By Sue Pleming
WASHINGTON (Reuters) - The economic impact of U.S. sanctions against Iran is unclear and Iran has signed about $20 billion in energy contracts with foreign firms since 2003, said a U.S. audit report.
"U.S. officials and experts report that U.S. sanctions have specific impacts on Iran; however, the extent of such impacts is difficult to determine," said the report by the nonpartisan Government Accountability Office, which was obtained by Reuters late on Tuesday.
"Other evidence raises questions about the extent of reported economic impacts," it added.
The report by the investigative arm of Congress comes as the Bush administration is pushing for a third round of U.N Security Council sanctions against Iran and planned talks with major powers in Berlin next week to iron out differences on those punitive measures.
The GAO urged the White House National Security Council to do a "baseline assessment" of the sanctions, imposed against Iran over its nuclear program, and to report those results to the U.S. Congress.
"Without an overall assessment of the sanctions' impact and subsequent reviews on a periodic basis, the Congress and the administration will continue to lack important information for developing effective strategies to influence Iran's behavior," said the report.
Since 2003, the Iranian government had signed contracts worth about $20 billion with foreign firms to develop its energy resources, said the report, adding that it was unclear if all those deals would be fulfilled.
It also said that strict U.S. sanctions on state-owned Iranian banks could be circumvented if those banks turned to other financial institutions or funded their activities in other currencies than the U.S. dollar.
President George W. Bush has been pushing for tough measures against Iran during his trip to the Middle East over the past week, trying to shore up support to isolate Tehran and telling Arab allies that its nuclear program is a major threat to world peace.
(Editing by Doina Chiacu)