Wal-Mart faces hurdles in green electronics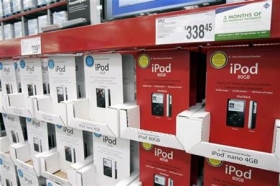 By Nicole Maestri
LAS VEGAS (Reuters) - A campaign to reduce packaging has been a success for Wal-Mart Stores "green" campaign, but a move toward environmentally friendly electronics is proving that changing the mechanics of a TV is much more complex than changing the mechanics of a cereal box.
Manufacturers that sell goods in Wal-Mart's stores have responded quickly to the company's request to cut packaging waste, slashing the size of cereal boxes or bulking up toilet paper rolls to eliminate the need for extra cardboard centers.
This year, Wal-Mart wants electronics makers to fill out scorecards that will rate their products on areas like energy use, durability and ease of recycling. Wal-Mart will use the scores to help decide which products to stock on its shelves.
But the foray into "green" electronics is proving to be more complicated than its foray into "green" packaging.
Also, there are no uniform U.S. guidelines regarding energy consumption or recycling, so Wal-Mart is sorting through a maze of international and local standards.
"We'd like to see some kind of federal legislation that would take all the individual state programs and bring it together," said Kevin O'Connor, Wal-Mart's general merchandise manager for consumer electronics, in an interview at the Consumer Electronics Show, or CES, this week in Las Vegas.
THE GREENING OF WAL-MART
Wal-Mart has set a goal of one day using only renewable energy and creating zero waste, and it has challenged its suppliers to remove nonrenewable energy from their lives.
Because of its status as the world's largest retailer, Wal-Mart is considered one of the few retailers with enough heft to make direct changes to global energy consumption.
While the efforts may help the environment, they are also designed to help Wal-Mart's bottom line.
Wal-Mart said it will save $3.4 billion by reducing packaging 5 percent by 2013, and CEO Lee Scott bristles at the notion that being green clashes with low-cost business.
"Even if you're against the idea that climate change is important, why in God's name would you be against saving money?" Scott said at the company's annual meeting.
"It's taking out cost," he added "...We're not doing things that are silly."
Indeed these goals are no laughing matter for Wal-Mart suppliers, who know that producing poor scorecard ratings could mean losing space on the retailer's shelves.
"When they move to make it (the scorecard) a buying criterion, it will become a very powerful force," said Theo Schoenmakers, head of sustainability for Philips Consumer Lifestyle, at CES.
TACKLING GREEN
Suppliers are facing issues engineering green electronics.
"The thing that they're going to have the most difficult time with is a lot of the raw materials," O'Connor said.
For instance, Seong Ohm, head of technology for Wal-Mart's Sam's Club warehouse division, said it is looking for a way to recycle the glass panels in flat-panel TVs.
"We're talking to Corning, who makes the glass panels, and saying what can you do to recycle those?"
But finding methods to recycle the millions of phones, TVs and computers sold at Wal-Mart presents another challenge.
Some vendors, like Hewlett-Packard and Dell, have their own recycling efforts, but it would become a logistical nightmare if each of Wal-Mart's suppliers had separate programs. It has almost 61,000 U.S. suppliers.
Ohm said Wal-Mart needs to figure "how do we make this more inclusive so that we don't have to have one-off programs."
WHO PAYS FOR THE GREENING?
While Wal-Mart may push these changes there is little chance it would want to charge a premium for green goods.
That puts manufactures in a bind because building these electronics costs more, said Accenture Global Managing Director Allen Delattre.
"That's one of the reasons the bad stuff was used in the first place--it was cheaper," he said.
Delattre said one way to deal with the higher prices is to tell consumers that a product might cost more upfront but would bring future savings if it consumes less energy.
That was the tactic Wal-Mart took to promote energy efficient compact fluorescent light bulbs. Wal-Mart is considering a labeling program that would outline to shoppers how green electronics would spell long-term savings.
But at the end of the day, Wal-Mart says its green push has to extend beyond itself to save costs for everyone involved.
"It's not about driving a Wal-Mart program," said Gary Severson, who oversees electronics at Wal-Mart's U.S. stores. "We're trying to get to a national standard ... because you don't get the scale unless we're able to drive it beyond us."