Argentine biodiesel arriving in EU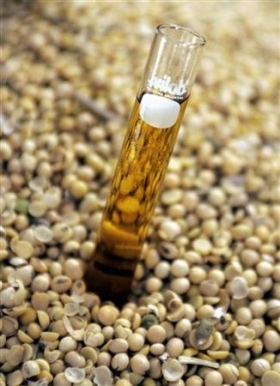 PARIS (Reuters) - Argentina has exported large volumes of biodiesel at very cheap prices to the European Union in 2007 and more will arrive in the coming year, the president of the European Biodiesel Board (EBB) said on Monday.
Bernard Nicol, who is also the head of French biodiesel maker Diester Industrie, said some 300,000 tons of Argentine biodiesel had been exported last year of which 75 percent to the United States -- often to be re-exported -- and 25 percent directly to the European Union.
Exports were encouraged by preferential taxes for biodiesel exports, charged at five percent, over edible oil exports, which has a 30 percent duty, he said.
"The spread between the two export taxes make it very, very favorably bright for (biodiesel) exports," Nicol told the Reuters Global Agriculture and Biofuel Summit.
Biodiesel makers in many European Union countries have come under pressure in 2007 from "dumping competition" as exports of cheap and heavily subsidized U.S. biodiesel, B99, have surged.
Under U.S law, biodiesel, which is mainly made from soybean oil, can be subsidized up to $264 per cubic meter, or about 200 euros per ton, by adding a "drop" of mineral diesel to biodiesel, the EBB said, a system dubbed "splash and dash."
Such a blend can then be exported to the 27-member bloc where it is eligible for subsidy schemes, which means U.S makers can cash in twice for subsidies -- at home and in the EU.
"If on top of that they (Argentine exporters) send it through the U.S., 'splash and dash' it...then of course it arrives at very cheap prices," he said.
The EBB lodged an anti-dumping and anti-subsidy complaint with the European Commission last month and Nicol said he was confident that the EU would to impose countervailing duties on U.S. biodiesel imports, even if it may take some time.
Nicol also said he believed Argentine biodiesel imports into the EU would rise in 2008.
"It will continue to increase next year and Argentine biodiesel will certainly outpace the U.S. B99 in the next 18 months," he said, adding that this would change the price relationship between soybean oil towards the other oils.
"Today soybean oil is cheaper but of course if it used in the exporting countries like Argentina, Brazil and the United States for biodiesel production then you will have no supply left for the export of soybean oil and prices will have a tendency to go up again," he said.
(Reporting by Sybille de La Hamaide; editing by Michael Roddy)
(For summit blog: http://summitnotebook.reuters.com/)