Buried metal at London airport affecting aircraft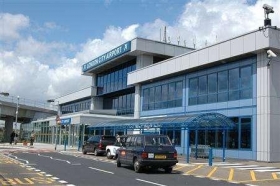 LONDON (Reuters) - Aircraft taking off from London City Airport have had their compasses affected by iron and steel buried below the runway, leading to significant navigation problems, a British air safety monitor said on Monday.
The main culprit is recycled oil pipelines used as steel casing on concrete piles that underpin the holding area where aircraft prepare for take-off, as well as buried railway lines and bollards, the Air Accidents Investigation Branch said.
The AAIB issued six safety recommendations, including that the steel casing be removed and pilots flying to/from London City Airport be routinely reminded in flight plans there is a magnetic anomaly which can affect their aircraft's instruments.
The moves follow an AAIB inquiry into an incident on October 31, 2006 when a Raytheon Hawker 800XP experienced difficulties navigating after taking off from the airport and had to return.
The incident was one in a series of navigation problems dating from January 2000 for aircraft leaving London City Airport. Some were attributed to pilot error at the time.
"A walk around the Runway 28 holding area with a hand-held magnetic compass by an AAIB inspector showed that there were some large and strong magnetic anomalies that made the compass needle deviate by up to +/- 60 degrees," the AAIB said.
Scientists called in to the airport, which is on the site of old docks in east London, found major magnetic anomalies from the steel casing, and a lesser effect from old railway lines and cast iron bollards that were used to tie up ships. These were covered over during construction of the airport.
London City Airport, which has one runway, was not immediately available for comment.
(Reporting by Dan Lalor; editing by Sami Aboudi)