Castro healthy enough to resume political role: Lula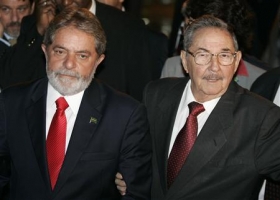 HAVANA (Reuters) - Cuban leader Fidel Castro is lucid and healthy enough to resume a political role in Cuba, Brazilian President Luiz Inacio Lula da Silva said on Tuesday.
"I think Fidel will soon assume his political role in Cuba, his historic role in Cuba and the globalized world," Lula told the press at Havana's international airport after meeting with Castro for more than two hours at the end of a 24 hour visit to Cuba.
Castro, one of the last remaining Cold War foes of the United States, has not been seen in public since undergoing emergency intestinal surgery in July 2006.
He has however been seen in photos and videos and has retained his influence on political affairs through a steady stream of musings and editorials in state-run media.