EU's Barroso hits back at critics of climate plan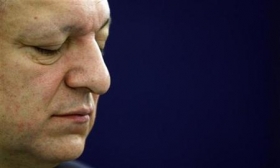 By Huw Jones
STRASBOURG, France (Reuters) - European Commission President Jose Manuel Barroso hit back on Wednesday at criticism from member states and industry of planned radical proposals to fight climate change and save energy.
A week before the European Union executive unveils a fiercely contested package of proposals to cut greenhouse gas emissions, boost renewable energy sources and promote biofuels, Barroso said the EU must "put our money where our mouth is."
"We knew from the very beginning that transforming Europe into a low-carbon economy is not an easy task. But this is the moment to be serious, responsible and coherent with our commitment," he told the European Parliament.
He was responding to letters from leaders such as French President Nicolas Sarkozy and the main EU business lobby that have warned Brussels against inflicting damage on industry or treating member states unfairly.
In a letter published in part on his official website on Tuesday, Sarkozy cautioned Brussels against "unnecessarily penalizing the prospects of growth."
Barroso said that by taking the lead in fighting climate change, Europe would give its industries "first mover advantage" in clean energy technologies, boost its economic competitiveness and create jobs.
The proposals would meet ambitious targets set by EU leaders last March to cut emissions of carbon dioxide (CO2) -- the main greenhouse gas blamed for global warming -- by 20 percent in 2020 from 1990 levels and use 20 percent of renewable energy in power production by that date, he said.
Member states would be treated fairly, recognizing different starting points, different circumstances and the fact that some are more able than others to finance investment in adaptation.
NUCLEAR CREDIT
According to draft proposals obtained by Reuters, the Commission will vary the effort demanded of each country according to its gross domestic product per capita.
The richest states will be expected to cut a further 20 percent of CO2 emissions from their 2005 levels while the poorest will be allowed to increase emissions by up to 20 percent to enable them to catch up economically.
Sarkozy proposed a different method, saying the aim should be convergence towards a situation where emissions of CO2 per person were uniform across Europe, and noting that France's emissions per citizen were 25 percent below the EU average.
That would be a way for Paris to gain credit for its nuclear energy program, by far the biggest in Europe. Other EU states which eschew nuclear power oppose any such allowance.
Barroso said the Commission would seek to minimize the costs of adaptation for European industry and to address the special challenges faced by energy-intensive industries such as steel and aluminum.
But he insisted: "It is a mistake to oppose the fight against climate change to the competitiveness of European industries."
(writing by Paul Taylor, editing by Darren Ennis)