FDA warns against cold drugs for kids under 2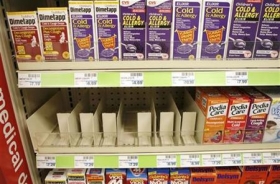 By Lisa Richwine
WASHINGTON (Reuters) - Children under 2 years old should not be given over-the-counter cough and cold medicines because they are too dangerous for that age group, U.S. health authorities advised on Thursday.
Deaths, convulsions and rapid heart rates have been reported in rare cases in children younger than 2, the Food and Drug Administration said.
"We strongly recommend that over-the-counter cough and cold products should not be used in infants and young children under 2 years of age because serious and potentially life-threatening side effects can occur," Dr. Charles Ganley, head of the FDA office that reviews nonprescription drugs, told reporters.
Ganley said the medicines "have not been shown to be safe or effective in children under 2" and noted they treat only symptoms and will not cure a cold.
The agency has not yet decided if the widely sold medicines made by companies such as Wyeth and Johnson & Johnson are appropriate for children of other ages. Officials are evaluating data on use in kids ages 2 to 11 and hope to rule by spring, Ganley said.
The cough and cold remedies have been sold for decades, but the FDA generally has not required companies to prove they work for children. Instead, data were extrapolated from adults.
"Children metabolize and react to medications differently than adults, often in unanticipated ways," the American Academy of Pediatrics said in a statement.
"Studies have shown cough and cold products are ineffective in treating symptoms of children under six years old and may pose serious risks," the group added in endorsing the FDA's move.
The FDA never endorsed giving the medicines to kids under 2 and cautioned last year against doing so without specific instructions from a doctor.
Makers say the products are safe and effective when used as directed for children age 2 and older. In October 2007, major manufacturers voluntarily pulled 14 cough and cold products for children up to age 2.
That same month, a panel of FDA advisers recommended that nonprescription cough and cold medicines not be given to children under age 6. A group of pediatricians and public health officials had petitioned the FDA to restrict sales to children younger than 6 years old.
The controversy gained widespread publicity last year, but surveys in December showed many parents still felt the medicines were appropriate for children under 2, Ganley said.
Currently, the agency advises that parents carefully follow dosing directions on all over-the-counter medications. To get a precise dose, parents should only use measuring spoons or cups made specifically for medicines, officials said.
They also urged checking product labels to make sure they are not giving more than one product with the same ingredient.
Many of the problems reported in children were attributed to overdoses or accidental ingestion.
Diana Zuckerman, president of the National Research Center for Women & Families, said the consumer group was disappointed the FDA did not extend the warning to children under 6.
"The FDA decision ignores the clear scientific evidence, taking the side of industry against patients," Zuckerman said in a statement.
The Consumer Healthcare Products Association (CHPA), which represents over-the-counter drugmakers, said on Thursday it supported the FDA action.
The ruling "reaffirms the correct course of action taken by the leading makers of these medicines last fall," CHPA President Linda Suydam said in a statement.
(Reporting by Lisa Richwine, editing by Leslie Gevirtz; Editing by Andre Grenon)