Toyota and Ford Give In and Plug In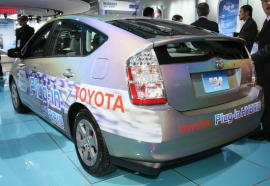 Toyota and Ford unveiled plug-in hybrid-electric versions of their vehicles at this week's Detroit Auto Show. This decision to give in and plug in is monumental. Consumer pressure from organizations like PlugInAmerica and Plug-In Partners most likely played a significant role. The growing number of entrepreneurial companies that offer plug-in conversion services could have also influenced Toyota's and Ford's decision to offer plug-in models themselves.
Both the Plug-In Toyota Prius and the Ford Escape Hybrid will run on lithium-ion battery technology known for high-efficiency and high-range capabilities. Although Ford did not announce when it plans to deliver its model to the public, Toyota President Watanabe said it will offer its Plug-in Prius models to fleet owners and governments in 2010.