Cubans vote for parliament that could retire Castro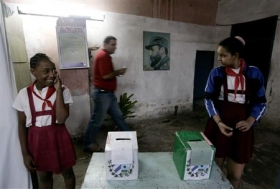 By Anthony Boadle
HAVANA (Reuters) - Cubans voted in parliamentary elections on Sunday that could start a transition to a post-Castro government in Cuba after half a century of rule by the Communist revolutionary.
Even though he has not appeared in public for almost 18 months, ailing Cuban leader Fidel Castro was on the slate of 614 uncontested candidates for 614 seats in the rubber-stamp National Assembly.
The assembly will hold its first session on February 24, acting President Raul Castro told Reuters after voting early at a school near Havana's Revolution Square.
That meeting to approve the executive Council of State will confirm whether the elder Castro, 81, will continue as Cuba's head of state or be formally succeeded by his brother, 76, or a younger leader.
"We are electing a new parliament at a complicated time when we have to face different situations and big decisions, bit by bit," Raul Castro said.
"He is in good health. I know he has been writing a lot, up to four essays simultaneously. Considering that he is 81, Fidel is strong, healthy and an intellectual powerhouse," he said.
Fidel Castro, who has led Cuba since a 1959 revolution that created a communist state just 90 miles from the United States, hinted in December that he would not cling to power or stand in the way of a new generation.
The Cuban leader had to hand over the running of the country to his brother after emergency stomach surgery for an undisclosed illness in July 2006. Since then he has only been seen, looking frail, in video clips and photographs.
Last week Castro wrote in a column that he was not physically able to speak in public for his re-election as a deputy and was sticking to writing instead.
'FADING GENERAL'
Fidel Castro cast his ballot in an envelope sent from his convalescence quarters.
Western diplomats said the Castro brothers were keeping their cards close to their chests and it was hard to predict whether Cuba would bite the bullet and formalize Fidel Castro's retirement.
Some foreign observers believe Raul Castro needs to be fully empowered to undertake sweeping economic reforms he has promised to improve the daily lot of Cubans.
Even if he does retire as head of state, the aging revolutionary is expected to continue exerting considerable influence as first secretary of the Communist Party.
"This is a general that fades into the background, he does not disappear," one South American diplomat said.
Never missing a chance to jab at his arch-enemy, the United States, Castro said in statement that cold, wet weather coming from the North was "conspiring against our elections" but had not prevented Cubans turning out en masse to vote.
For weeks, authorities have urged the 8.4 million voters to go and vote to show support for Cuba's one-party system. Most Cubans, whether they back the government or not, were expected to vote. Failure to do so is frowned upon.
"Those who fail to vote should be punished as severely as one who surrenders his gun to the enemy," the Communist Youth newspaper, Juventud Rebelde, said on Sunday on its front-page.
Commented one housewife in central Havana as she went to vote: "This is an election with no choice. There is only one party here. They should let us vote directly for president."
(Additional reporting by Milexsy Duran, editing by Patricia Zengerle)