U.S. sees nuclear energy as global alternative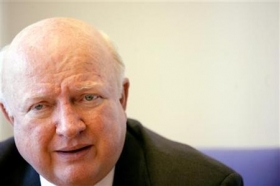 ABU DHABI (Reuters) - Gulf Arab oil exporters and countries around the world should look into nuclear power as an alternative to hydrocarbons, U.S. Energy Secretary Sam Bodman said on Monday.
"Nuclear power should be an alternative for Gulf countries and other countries around the world," Bodman said in the United Arab Emirates during a visit.
He was speaking on the sidelines of a green energy conference in the UAE, which plans to start a nuclear energy program.
(Reporting by Simon Webb, writing by Inal Ersan, editing by Anthony Barker)