Trash crisis piles pressure on Italy minister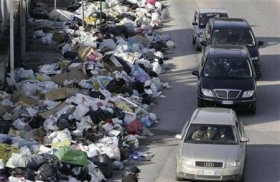 By Silvia Aloisi
ROME (Reuters) - Italy's environment minister faces a close vote on a motion blaming him for Naples' garbage crisis, with calls from members of the ruling centre-left coalition and the opposition for his resignation.
The Senate, where Prime Minister Romano Prodi has only a two-seat majority, will vote on the motion on Wednesday after mountains of rubbish have piled up in the streets of Italy's third biggest city.
Environment Minister Alfonso Pecoraro Scanio, leader of the Green party and dubbed by the media as "Signor No" because of his often uncompromising stance, would not be technically forced to step down if the vote goes against him.
But Prodi, badly bruised by the resignation of his justice minister last week after it emerged that he and his wife were under investigation in a corruption probe, can hardly afford another embarrassment.
Pictures of the trash-strewn streets of Naples and the Campania region, where waste disposal first became an emergency 14 years ago, have shocked Italians and hurt Prodi's centre left, which also runs the city and the surrounding region.
Despite Prodi's appointment of a former national police chief as 'trash tsar' to take charge almost two weeks ago, the situation has not significantly improved, with 2-metre high piles of garbage still rotting in many villages.
While leftist politicians have been quick to point the finger at the local version of the mafia, the Camorra, which is heavily involved in waste management in the area, experts say political incompetence and corruption are also to blame.
Pecoraro Scanio and his supporters say he is being turned into a scapegoat for a crisis that he did not create.
"The real problem is not the garbage or the environment minister. Everything becomes a pretext to try and sink Prodi," he said in an interview with La Repubblica daily on Monday.
But he has few friends even within Prodi's nine-party, Catholic-to-communist coalition. Former Justice Minister Clemente Mastella, who has said he would give only "external" support to the government after resigning last week, said over the weekend Pecoraro Scanio should go.
And centrist leader Lamberto Dini, who has often threatened to withdraw his support from the government, said he would vote with the opposition on Wednesday.
Mastella's and Dini's small parties together have six seats in the Senate, and aides on Monday said a worried Prodi was negotiating with both to win them back.
"Prodi is trying to plug up the holes and what is happening in these hours suggests he will probably succeed. But sooner or later the holes risk sinking his ship," said a source in Prodi's Democratic Party.
(Additional reporting by Paolo Biondi; Editing by Stephen Weeks)