Italian PM puts stricken government to decisive test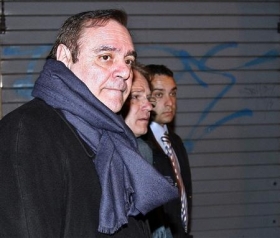 By Stephen Brown
ROME (Reuters) - Italian Prime Minister Romano Prodi submitted his centre-left government to what may be its final test by asking parliament on Tuesday for a confidence vote after the defection of an ally pushed it to the brink of collapse.
A former minister dealt the 20-month-old government a possibly fatal blow on Monday by withdrawing his party's support for Prodi, which robs him of an already tiny majority in the Senate (upper house). The opposition called for his resignation.
Prodi was left little alternative but to resign or submit his leadership to a confidence vote -- for the 32nd time since he came to power in 2006 after beating conservative prime minister Silvio Berlusconi in the closest elections in Italy's history.
"Only parliament can decide the fate of the government," he told the lower house where his comfortable majority should mean victory in a confidence vote at 12:00 p.m. EST on Wednesday.
But he also sought a vote in the Senate, where even before the defection of former justice minister Clemente Mastella he had only survived with unelected lifetime senators' support.
Prodi defended his government's record on economic growth and spending controls, as well as giving Italy a higher profile in the European Union and on the world diplomatic stage.
"We need continuity of action above all at a moment when the world economy is faced with negative developments," Prodi said.
Losing would force him to resign. Unlike last February, when Prodi called wavering allies' bluff by quitting and getting reinstated by President Giorgio Napolitano, this would be final.
"I still expect him to try to wriggle out of it, but I hope that won't happen and that we can go straight to elections," said media magnate Berlusconi.
His centre-right opposition, ahead in most polls, suffered serious divisions late last year but Berlusconi's former foreign minister Gianfranco Fini said his right-wing National Alliance would back Berlusconi for prime minister if elections were called.
"MASOCHISM"
One Prodi ally, Environment Minister Alfonso Pecoraro Scanio -- who faces a confidence vote himself over the rubbish crisis in Naples -- said Mastella's Catholic Udeur party might return.
"I hope at the last minute Mastella will reconsider," he said. "It would be masochism to hand Italy back to Berlusconi."
If Prodi falls, Napolitano could call snap elections or appoint an interim government. Its task would be to oversee a reform of messy voting rules blamed for an unstable system of coalition governments that are held to ransom by small allies.
Mastella's Udeur and the communists on the opposite wing have given Prodi a rough ride ever since he came to power.
Supporters of a referendum on electoral reform want Italy to move closer towards a two-party system while small parties fear this would banish them from parliament. Berlusconi, sensing a chance to return to power, favors holding snap elections.
"We should have elections straight away. I don't think a technical government is the solution," said Berlusconi.
The crisis unraveled to the background of a collapse on international financial markets, with shares in loss-making airline Alitalia plunging more than 7 percent on fears that Prodi's government, which is trying to sell it, could fall.
But the European Union's economics chief, Joaquin Almunia, said the political crisis should not affect the rest of Europe.