Amgen 1st-quarter profit rises on cost cutting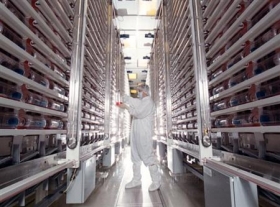 By Bill Berkrot
NEW YORK (Reuters) - Amgen Inc <AMGN.O> reported higher first-quarter profit on Thursday, topping estimates, as cost cutting helped offset declining sales of its anemia drugs hit by safety concerns and reimbursement restrictions.
The world's largest biotechnology company said net profit rose to $1.14 billion, or $1.04 per share, from $1.11 billion, or 94 cents per share, a year ago.
Excluding items, Amgen earned $1.12 per share, beating analysts' average expectations by 8 cents, according to Reuters Estimates.
"I am quite pleased and impressed with the bottom line. They continue to manage expenses," said Cowen analyst Eric Schmidt. "I think we all recognize that year-on-year comparisons would be tough for Amgen."
Total revenue fell 2 percent to $3.61 billion for the quarter, in line with Wall Street estimates.
The erosion of the anemia franchise continued unabated as worldwide sales of the red blood cell booster Aranesp -- long seen as Amgen's most important product -- fell 25 percent to $761 million in the quarter. That was below Wall Street's diminished estimate of $771 million and well below the previous quarter's $827 million, marking the fifth successive quarterly decline.
The older anemia treatment Epogen, used primarily in kidney dialysis patients, saw sales fall 11 percent to $554 million, missing analyst estimates of $604 million.
The class of anemia medicines known as erythropoiesis stimulating agents have been under a cloud for more than a year since data showed they could raise the risk of death in cancer patients. Since then, restrictions have been placed on their use, and the reimbursement climate has become much tougher.
Aggressive cost cutting helped stem the tide of plunging anemia drug sales. Research and development spending was down 18 percent for the quarter, while capital expenditures were slashed to $170 million from $325 million a year ago.
"Though first quarter product sales were mixed, based on current trends and expectations, we are confident that revenues for the year will be within our previously announced guidance," Chief Executive Kevin Sharer said in a statement.
"We continue to be encouraged by the lasting effects of our cost management efforts," he added.
Amgen reaffirmed its 2008 forecast for adjusted earnings of $4.00 to $4.30 per share and revenue of $14.2 billion to $14.6 billion.
Enbrel, a treatment for rheumatoid arthritis and the skin condition psoriasis, provided a major bright spot as sales jumped 30 percent to $951 million, handily topping expectations of $868 million.
Rodman and Renshaw analyst Michael King said Enbrel was surprisingly strong. Many on Wall Street were concerned sales could fall short of estimates due to new competition in the psoriasis market.
He said overall, sales were "a little light, but not bad considering all they've been through."
Combined global sales of Neulasta and Neupogen, used to boost white blood cells, rose 7 percent to $1.08 billion.
Lehman Brothers analyst Jim Birchenough said Amgen's share price of only 10 times 2008 projected per-share earnings made it a bargain compared to its rivals.
"At this level, it is hard to see incremental downside to Amgen, especially with the company now affirming its earnings guidance," he said.
Amgen shares rose to $42.70 in after-hours trading from their Nasdaq close at $42.40.
Amgen shares are down about 9 percent this year, continuing the sharp decline seen in 2007 amid a steady drumbeat of negative news involving its top-selling anemia drugs.
(Additional reporting by Deena Beasley and Ransdell Pierson; editing by Jeffrey Benkoe)