New Zealand PM warns off Japanese whalers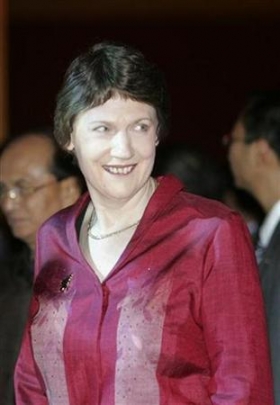 WELLINGTON (Reuters) - New Zealand Prime Minister Helen Clark warned Japanese whaling ships on Friday that surveillance photos of the fleet revealing their location would be published if they entered New Zealand's Antarctic waters.
Japan's six-ship whaling fleet has been trying to avoid anti-whaling protest ships in the Southern Ocean after protesters stopped whaling operations when two activists boarded a whaling ship and another group stopped a whaling ship refueling.
The militant Sea Shepherd Conservation Society, which boarded the Japanese ship, has threatened to find the whalers and stop them whaling.
Greenpeace, which prevented the fleet's factory ship Nisshin Maru from refueling, is also searching for the whalers.
New Zealand air force reports the whalers were heading for New Zealand's Antarctic waters, where it has search-and-rescue responsibilities but not sovereignty, prompted Clark to warn-off the Japanese fleet.
"The government's instructions have been that if the Japanese whaling fleet is discovered in the area where New Zealand is patrolling, then we would like photographs and we will release them," Clark told reporters.
"We won't release co-ordinates for obvious safety-related reasons but we will put information out to the world where we see the fleet," she said.
Clark said the presence of the whalers anywhere near New Zealand's search-and-rescue area was a cause of grave concern.
Last year, the Japanese factory ship was disabled by fire in the Ross Sea after clashing with anti-whaling protesters.
"It's an area that's very difficult to access. If there are problems it's difficult to render assistance," Clark said.
"You don't quickly mount a voyage from the naval dockyard in Auckland to the far south of the Ross Sea. This is very, very awkward."
Japanese whaling officials have said they plan to try to exhaust the fuel supplies of the anti-whaling ships before they resume whaling.
Japan plans to hunt almost 1,000 minke and fin whales for research over the Antarctic summer, but has abandoned the cull of 50 humpback whales after international condemnation and a formal diplomatic protest by 31 nations.
Despite a moratorium on whaling, Japan is allowed an annual "scientific" hunt, arguing whaling is a cherished cultural tradition and the hunt is necessary to study whales. Its fleet has killed 7,000 Antarctic minkes over the past 20 years.
"We think the number of whales they take makes it clear that this is not about science," said Clark.
"It's about maintaining whaling with the hope that some time in the future they could return to commercial whaling."
(Reporting by Michael Perry; Editing by David Fogarty)