Astronomers to get rare look at visiting asteroid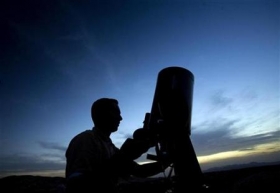 WASHINGTON (Reuters) - A small asteroid will travel relatively near to Earth next week, giving astronomers a rare opportunity for a close-up look.
Asteroid 2007 TU24 was first seen in October and is on a trajectory to pass Earth outside the Moon's orbit at a distance of 334,000 miles on Tuesday at 3:33 a.m.
NASA said it will not be visible to the naked eye but amateur astronomers with modest-sized telescopes should be able to spot it.
NASA said the asteroid is anywhere between 500 feet and 2,000 feet long, and there is no chance it could hit the planet.
Astronomers at the Arecibo Observatory in Puerto Rico will be taking as close a look as they can as the building-sized object hurtles past.
"We don't yet know anything about this asteroid," Mike Nolan, head of radar astronomy at the Puerto Rico observatory, said in a statement.
He said such objects frequently pass near Earth, perhaps one every five years or so, but such advance notice is rare.
TU24 is one of an estimated 7,000 so-called near-Earth objects.
"We have good images of a couple dozen objects like this, and for about one in 10, we see something we've never seen before," said Nolan. "We really haven't sampled the population enough to know what's out there."
After that, it will be nearly 20 years before such an opportunity presents itself again.
"This will be the closest approach by a known asteroid of this size or larger until 2027," said Don Yeomans, manager of the Near Earth Object Program Office at NASA's Jet Propulsion Laboratory, which watches for objects that could potentially threaten Earth.
(Reporting by Maggie Fox, editing by Will Dunham and Stuart Grudgings)