Gasoline prices fall below $3 a gallon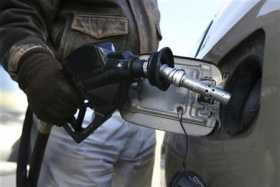 NEW YORK (Reuters) - The average price for a gallon of gasoline in the United States fell below $3 due to less demand and slightly lower oil prices, and was likely to hold steady, according to an industry analyst.
The national average for self-serve, regular unleaded gas was about $2.98 a gallon on January 25, down 9.43 cents in the past two weeks, according to the nationwide Lundberg survey of about 7,000 gas stations.
"For the immediate future, unless crude oil prices either leap up or fall dramatically, I expect little change for average price of gasoline in the street," survey editor Trilby Lundberg told Reuters on Sunday.
Both refiners and retailers experienced shrinking profit margins, which means gasoline prices will likely rise when demand increases.
"Gasoline demand is in its traditional winter hibernation and when it wakes up, rising demand meeting depressed industry profit margins will cause a hike at the pump," Lundberg said.
At the current $2.98 a gallon, retail gasoline is 79.23 cents more expensive than it was a year ago.
Honolulu, Hawaii, had the highest average price per gallon at $3.35 for self-serve, regular gas in the nation, while Tulsa, Oklahoma, had the lowest at $2.70 a gallon.
(Reporting by Lisa Lee, editing by Maureen Bavdek)