France to complete biofuel plan despite criticism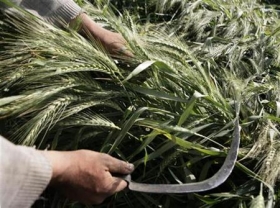 PARIS (Reuters) - France will finish off its ambitious biofuels program despite growing criticism over their negative impact on the environment and food prices, the country's transport minister said on Wednesday.
"The government has decided to finish off its program currently under way and the factories under construction will naturally be built," Dominique Bussereau told parliamentarians.
France is the second-largest biofuel producer in Europe after Germany and has vowed biofuels would account 7 percent of total fuel consumption by 2010.
Biofuels, which are seen by supporters as a way to both boost energy security and reduce emissions of greenhouse gases, are currently produced mainly from food crops such as grains, oilseeds and sugar.
Critics argue there are few, if any, environmental benefits for so-called first generation biofuels.
They have also been blamed for boosting grain demand and pushing up food prices at a time when there is a growing threat of famine in some parts of the world.
"We are aware of the frantic rise in grain prices, a problem that did not exist a few years ago, as well as the problem of choosing to use cereals for industrial or food purposes," Bussereau added.
French farm minister Michel Barnier said last week food globally should take priority over biofuels but played down the impact the French production of biofuels had on grain prices, saying the "green fuel" only used up seven percent of French fields.
In Europe as a whole biofuels used up 2 percent of the bloc's cereals production.
(Reporting by Muriel Boselli, Editing by Nigel Hunt)