Egypt seals last breach in Gaza border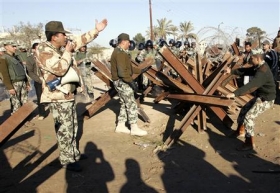 By Nidal al-Mughrabi
RAFAH, Gaza Strip (Reuters) - Egyptian forces sealed the last breach in the border with the Gaza Strip on Sunday, stopping an influx of Palestinians into Egypt across a frontier blown open by Hamas Islamists defying an Israeli-led blockade.
"It is closed. Go home," a militant from Hamas, which was cooperating with Egypt in holding back Palestinians wanting to leave Gaza, told the crowd gathered at the border. Many began to leave the area.
Egyptian forces used barbed wire and metal barricades to seal the only remaining gap on the Egyptian side of the frontier at Rafah, a town straddling the border.
An Egyptian officer said Gazans on the Egyptian side of the frontier and Egyptians visiting the Gaza Strip would be allowed to return home.
Hamas, which took over the Gaza Strip by force in June, had been under pressure from Egypt to stop the flow of hundreds of thousands of Palestinians who crossed over since members of the group blew open the border on January 23.
Egyptian security sources estimated there were less than 10,000 Palestinians still in Egypt.
Authorities in El-Arish, in the Sinai peninsula, formally issued Egyptian entry stamps to some 800 Gazans, a step that should enable them to fly on to other countries from the town's airport, Palestinians sources said.
Gazans had flocked to the Egyptian side of Rafah to stock up on goods that were in short supply in the Gaza Strip after Israel tightened border restrictions in a declared bid to pressure Palestinian militants to halt rocket attacks.
A spokesman for Egyptian President Hosni Mubarak said Egypt would not permit Palestinians to overrun its frontier again.
"Egypt absolutely will not allow a repeat of what happened because it has a border, territory and sovereignty, and it is Egypt's right and duty to preserve that," spokesman Suleiman Awad said in remarks carried on Egyptian state news agency MENA.
"RELIABLE BARRIER"
An Israeli defense official said it was too early to tell whether Egypt had managed to choke off the movement of people into its territory. "There is a difference between putting up some fencing in front of a bunch of TV crews and truly restoring a reliable barrier," the official said.
Yuval Diskin, head of Israel's internal intelligence agency, told a cabinet session militants had used the opening to bring into Gaza longer range rockets and fighters trained abroad.
Defence Minister Ehud Barak urged the building of a barrier along the Israel-Egypt border, which stretches 180 km (113 miles) to prevent "terror and smuggling."
The Rafah crossing, once controlled by the Palestinian Authority and overseen by European monitors, had been largely closed since Hamas took control of the Gaza Strip in fighting against Palestinian President Mahmoud Abbas's Fatah group.
At the border on Sunday, Palestinian families reunited by the fall of the Rafah wall faced separation again.
"This is not right, this is injustice," said Jamil Toman, a Palestinian and Cairo resident who had been visiting Gaza.
Toman, 63, left the Gaza Strip before the 1967 war in which Israel captured the territory, and has not been able to get an Israeli permit to return for the past 40 years.
After talks with Egyptian officials in Cairo on Saturday, Hamas's Mahmoud al-Zahar said the group "will restore control over this border, in cooperation with Egypt, and gradually."
Hamas has demanded a central role in controlling the border with Egypt. Talks in Cairo on Saturday between Khaled Meshaal, a Hamas leader who lives in exile, and Egyptian officials ended without a formal agreement on frontier arrangements.
(Additional reporting by Cynthia Johnston in Cairo and Dan Williams in Jerusalem; Writing by Jeffrey Heller and Avida Landau in Jerusalem; Editing by Matthew Tostevin)