Super Bowl draws record 97.5 million viewers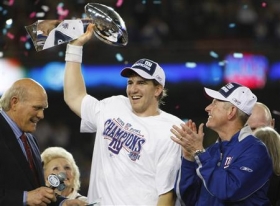 By Paul Thomasch
NEW YORK (Reuters) - A record 97.5 million Americans tuned in to Sunday's upset victory by the New York Giants over the New England Patriots, marking the biggest TV audience in Super Bowl history and the second most-watched U.S. telecast ever.
The number of viewers watching the National Football League championship game was surpassed only by the 106 million who saw the series finale of "M*A*S*H" in February 1983, according to data issued on Monday by Nielsen Media Research.
Even before kick-off, experts forecast blockbuster ratings for a Super Bowl matchup featuring two teams from big media markets, with one of the teams, New England, entering the game undefeated.
The game itself assured the sky-high ratings, as the Giants won 17-14 on a touchdown in the final seconds to produce one of the biggest upsets in Super Bowl history.
"Fox could not have asked for a better game," said Brad Adgate, director of research at Horizon Media. "You don't need writers for that sort of drama."
Sunday's audience was up nearly 5 percent from a year ago, when CBS carried the NFL championship. Previously, the most watched Super Bowl on record was the 1996 contest between Dallas Cowboys and Pittsburgh Steelers, which drew 94.1 million viewers.
For advertisers who paid an average of $2.7 million for a 30-second spot, up from $2.6 million a year ago, the hefty ratings came at the right time.
The Super Bowl, always critical for advertisers, took on added significance this year. A strike by Hollywood writers has disrupted much of the prime-time TV schedule, cutting down viewership. And those watching TV are skipping commercials with greater frequency thanks to digital video recorders like TiVo.
"The Super Bowl is relatively TiVo-proof," said Adgate. "You're not going to zap the commercials. In fact, a lot of people watch the game just for the commercials."
Media experts and advertising polls suggested that longtime Super Bowl advertisers Anheuser-Busch Cos Inc and PepsiCo were among the big winners when it came to marketing.
"Overall it was a great year for Super Bowl advertising," said professor Tim Calkins, who leads a Super Bowl review at Northwestern University's Kellogg School of Management.
USA Today's Ad Meter, one of the most closely watched barometers of advertising success in the game, rated a spot by Anheuser-Busch for Budweiser as the top commercial, followed by spots from Fedex, Bridgestone, Doritos, and Bud Light.
Among the advertisements that received poor reviews from experts and audiences were commercials by Salesgenie.com and CareerBuilder, an online job site run by Gannett Co, Tribune Co, McClatchy Co and Microsoft Corp.
Super Bowl commercials received in excess of 15 million additional views online at social network MySpace.com, which, like Fox, is owned by News Corp.
Shares of News Corp fell 6 cents to close at $19.35 on the New York Stock Exchange.
Reuters/Nielsen