Toyota fourth-quarter falls as strong yen, weak U.S. weigh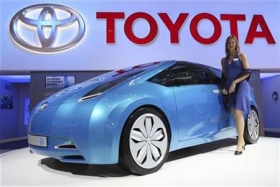 TOKYO (Reuters) - Toyota Motor Corp <7203.T> posted a 28 percent fall in quarterly net profit on Thursday, hit by a stronger yen and finance-related losses, and forecast its first annual profit drop in seven years as the U.S. auto market slows.
January-March profit at Toyota, the world's biggest automaker, was 316.8 billion yen ($3.0 billion), lagging an average estimate of 342.3 billion yen from 20 brokerages surveyed by Reuters Estimates.
Operating profit, which excludes its Chinese joint ventures, fell 30.5 percent to 396.7 billion yen, while net profit for the year to March rose 4.5 percent to a record 1.72 trillion yen.
For the year to March 31, 2009, Toyota forecast net profit to fall 27.2 percent to 1.25 trillion and operating profit to decline yen 29.5 percent to 1.60 trillion yen , breaking a seven-year string of record results.
Consensus forecasts from 19 brokerages call for a net profit of 1.56 trillion yen and operating profit of 2.00 trillion yen.
Toyota is expanding rapidly in China, Russia and the Middle East to help offset a slowdown in the mature markets of the United States, Japan and Europe.
But a 10 percent fall in the dollar against the yen in the past year and rising commodity prices are set to outweigh Toyota's emerging markets growth and strong sales of its Yaris subcompact, Prius hybrid and flagship Corolla sedan.
Other Japanese automakers are also suffering. Honda Motor Co <7267.T> last month projected an 18 percent drop in 2008/09 net profit assuming a 100 yen dollar.
Nissan Motor Co <7201.T> is due to announce its results next Tuesday.
Shares of Toyota have lost 7.6 percent this year to Wednesday, faring better than Tokyo's transport sub-index <.ITEQP.T>, which lost 11 percent over the same period. Honda and Nissan shed about 8 and 21 percent respectively.
Toyota is still valued at about $180 billion -- almost as much as Volkswagen AG <VOWG.DE> and Daimler AG <DAIGn.DE> combined.
(Reporting by Chang-Ran Kim; Editing by Lincoln Feast)