U.S. moves to cut energy use by televisions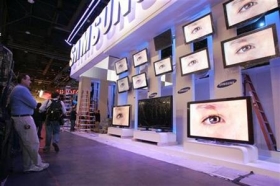 WASHINGTON (Reuters) - The Environmental Protection Agency said on Tuesday digital televisions will face more stringent requirements to earn its energy efficient label.
Starting November 1, televisions carrying the EPA's Energy Star label will have to be up to 30 percent more efficient than conventional models. This is the first time that the Energy Star designation will be given to televisions for using less energy while they are on and in standby mode.
"Energy Star's new specifications for televisions are turning the channel on energy guzzling sets - making them go the way of rabbit-ears and the black and white TV," said EPA Administrator Stephen L. Johnson in a statement.
The new specifications are expected to lower greenhouse gas emissions and save Americans money. If all televisions sold in the United States were to meet Energy Star's new requirements, the savings in energy costs would grow to about $1 billion annually and greenhouse gas emissions would be reduced by the amount spewed by 1 million cars.
The United States has more than 275 million televisions in use.
The Consumer Electronics Association applauded the EPA's updated Energy Star guidelines, saying it worked with the agency to make the new-generation of televisions more energy efficient.
Energy Star, a voluntary, market based partnership that promotes energy efficiency, helped Americans save about $14 billion in energy bills in 2006 and reduced greenhouse gas emissions by the equivalent of 25 million vehicles.
(Reporting by Ayesha Rascoe; Editing by Marguerita Choy)