Chad's Deby urges EU force to take up positions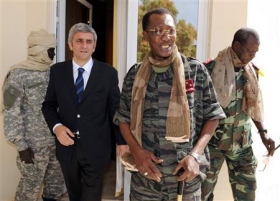 PARIS (Reuters) - Chad's President Idriss Deby urged the European Union on Thursday to send a peacekeeping force to his country as quickly as possible.
The 27-nation EU suspended deployment of a 3,700-strong EUFOR mission to eastern Chad, meant to protect civilians from a spillover of violence from Darfur, when a column of rebels stormed the capital on Saturday and tried to overthrow Deby.
"It would have helped us if EUFOR was already in place," Deby told France's Europe 1 radio.
"We want to launch a solemn appeal to the European Union, and France...to make sure that this force is put in place as quickly as possible to lighten the load we are carrying."
He said looking after some 300,000 refugees and 170,000 displaced Chadians was a burden on Chad's forces.
Deby said he had never lost control of his country after the rebel offensive in fighting which killed at least 100 civilians at the weekend.
He again accused neighboring Sudan of backing the rebel offensive and said he feared Sudan would help the rebels launch another attack. "It is not impossible because the international community is saying nothing against Sudan," he said.
"Sudan has had a sort of green light to destabilize Chad, not just Chad but the whole region."
Sudan denies destabilizing Chad and accuses Chad of supporting a five-year uprising in its remote Darfur region.
The European Commission said on Tuesday it was concerned violence in Chad's capital could disrupt aid deliveries in the east of the country.
It said deployment of the EU force, originally planned for last Friday, was vital to keeping aid flowing.
Deby said France had provided the Chadian army with training but had not directly intervened in the fighting. He said he was ready to pardon six French aid workers jailed for eight years for abducting children if France requested it.
The incident, involving the aid group "Zoe's Ark" which said it had gone to Chad to help children orphaned in the conflict-torn Darfur region, aroused strong feelings last year but Deby said the situation had settled down.
"I am ready to pardon them," he said, but only "if the government asks."
(Editing by Philippa Fletcher)